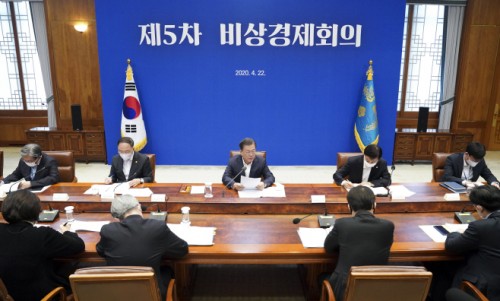 President Moon Jae-in will unveil a comprehensive blueprint for his administration's New Deal initiative on Tuesday. The image shows the 5th emergency economic council meeting held on April 22 at Cheong Wa Dae in Seoul, when the president mentioned the Korean New Deal for the first time./ Source: Yonhap News
AsiaToday reporter Lee Seok-jong
President Moon Jae-in will unveil a comprehensive blueprint for his administration's New Deal initiative on Tuesday which was presented as a national development strategy to become a leading country in the post-coronavirus era.
"The Korean New Deal is a project to concentrate national power," said Cheong Wa Dae on Monday. "It's a project to overcome the COVID-19 economic crisis at an early date, to achieve large-scale job creation, and to transform South Korea into a leading country by combining the government's pump-priming role and firms' leading role. An event to unveil a comprehensive blueprint for the Korean New Deal will be held at Cheong Wa Dae on Tuesday."
According to the presidential Cheong Wa Dae and the government, the Korean New Deal is based on three main pillars – "Digital New Deal" to lead the future innovative economy, "Green New Deal" to open the way to sustainable growth, and a solid "employment safety net" to support the two new deals.
During the event, a presentation on specific projects for Digital New Deal, Green New Deal, and the establishment of employment safety net will be held.
Under the name of "Digital New Deal," the government plans to build artificial intelligence (AI) learning data and install high-speed internet networks and Wi-Fi in public areas or facilities, including remote rural areas.
In so-called digitally inclusive projects, the government aims to strengthen the digital ecosystem and achieve digitization of social overhead capital (SOC).
The government included several projects under "Green New Deal", such as retrofitting old public buildings for energy saving, building an ICT-based smart water management system, nurturing 100 promising green companies and green convergence experts, and installing smart power meters for major buildings such as apartments.
The government plans to transform the city, space, and living infrastructures in an environmentally-friendly manner and establish innovative ecosystem for green industries while improving the efficiency of energy management.
The major projects for the establishment of employment safety net include step-by-step expansion of application of employment insurance, reorganization of future-adapted vocational training system, and innovation of telecommuting environment.
Through these projects, the government aims to eliminate blind spots in the employment safety net for vulnerable groups who are most hit by future changes in economic and social structure, and to promote innovation in the working environment for 'non-face-to-face contact' era.
More details of such projects will be announced by Finance Minister Hong Nam-ki and the ruling Democratic Party's policy chief Cho Jeong-sik during the event.
The event will also connect live via teleconference with the heads of key companies, including Hyundai Motor and Naver.
Also there will be ruling party lawmakers and representatives from business lobby groups.