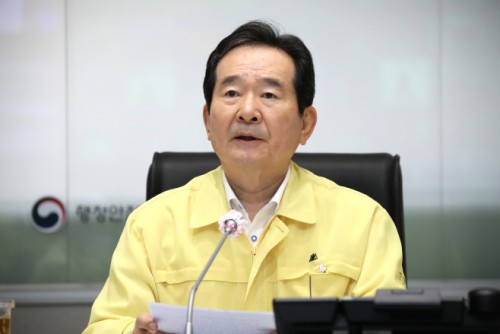 Prime Minister Chung Sye-kyun presides over a regular pan-government meeting on COVID-19 on July 8, 2020./ Source: Yonhap News
AsiaToday reporter Lee Seok-jong
Prime Minister Chung Sye-kyun on Wednesday urged senior government officials who own multiple homes to swiftly sell their estates, saying, "The right time has already passed." President Moon Jae-in's Chief of Staff Noh Young-min revealed that he will sell his apartment in Banpo, while Rep. Kim Tae-nyeon, floor leader of the ruling Democratic Party (DP), urged lawmakers with more than one home to sell the rest as soon as possible, which was a promise made earlier this year by candidates running for the April general election.
The Blue House, the government and the ruling party seem to be striving to ease public anger over high-ranking officials owning a number of homes amid the government's real estate policy. It seems they came to think that public sentiment recently became seriously negative.
However, it remains to be seen whether such measures will soften mounting criticism. This is because most of the high-ranking officials are likely to leave the so-called 'one smart house' even if they sell other houses.
Besides, public criticism is expected to continue as the housing prices in the metropolitan area including Gangam have raised sharply and high-ranking officials selling homes at this point are expected to have considerable market profits.
Chung made the call while chairing a pan-government meeting on COVID-19.
"I'm going to tell you as a prime minister. I ask each ministry including local governments to promptly confirm the home ownership status of senior officials, and to take steps so that multiple home owners sell their estates as soon as possible," Chung said.
"Such policies cannot earn the public's trust if senior government officials possess several houses," he said. "The situation now is very serious and it is time for ranking officials to set an example," the prime minister said.
Noh, who has recently stirred real estate controversy, announced on Facebook that he decided to sell his apartment in Seoul as soon as his family moves out.
"I had revealed last Thursday that I would sell an apartment in Cheongju, and it was sold last Sunday," Noh said. "I considered the fact that my family lives in the Seoul apartment and that the Cheongju home had been vacant for many years while I served as Korean ambassador to China and as presidential chief of staff."
"Regardless of my intentions, the sale of the Cheongju apartment was seen by the people as a move to protect the Seoul apartment. I feel sorry," Noh said.
As Noh had strongly advised presidential aides with multiple homes on July 2 to sell any second properties by end of this month and now he decided to sell all of his two houses, attention is now on the other presidential aides with multiple houses.