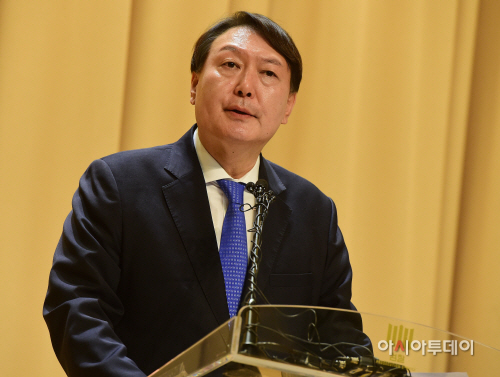 Prosecutor General Yoon Seok-youl/ Photographed by Song Eui-joo
AsiaToday reporter Heo Kyung-joon
Attention is focused on Prosecutor General Yoon Seok-youl's next move after Justice Minister Choo Mi-ae last week issued a rare order calling on Yoo to shut down a review of the validity of an ongoing investigation into a collusion case allegedly involving one of his close aides.
Yoon appears to be mulling over whether to accept the minister's order, which has been issued for the first time in 15 years.
It seems that the prosecution internally believes that the top prosecutor should make a careful decision on the issue after examining it from various perspectives, since it is not a light matter.
After the minister's order, Yoon has been reportedly seeking advice from senior prosecutors before making a decision.
The legal circles claim that Yoon is apparently in a dilemma. If the top prosecutor completely accepts Choo's order, it could hamper the prosecution's independence. But if he refuses to accept the order, it may be seen as disobedience.
In a meeting that senior prosecutors nationwide carried out Friday, the participants of the meeting voiced that the minister's intention to exclude Yoon from intervening in the investigation is either illegal or unfair as it effectively calls for the suspension of his duty as the top prosecutor. While Yoon has secured a good reason to refuse the minister's order, he is apparently feeling pressured.
Although the prosecution expressed support for Yoon, if Yoon refuses the order issued by the justice minister, his decision would be seen as revolt against the minister and it would not benefit the prosecution at all.
If Choo re-invokes her authority to command the prosecution's investigation even if Yoon asks her for "reconsideration," their relationship, which has been strained already, will worsen.
"Unless Yoon accepts all the order, Choo will judge whatever decision he makes as disobedience and implement follow-up procedures," a prosecutor-turned-lawyer said.
The situation is complicated, but many observers say that Yoon is unlikely to fully accept the minister's command. If the prosecutor general accepts the order, it can be viewed as if he is putting down his authority to direct and supervise an investigation as stipulated in the Prosecutors' Office Act.