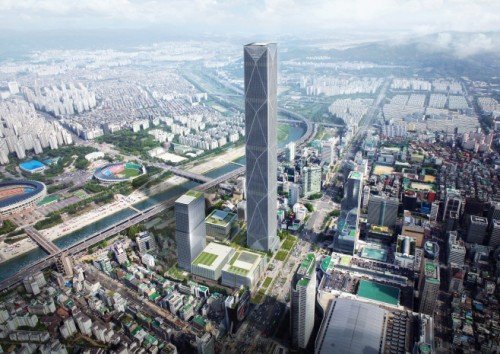 A view of Hyundai Motor Group's 105-story new headquarters, Global Business Center, in Gangnam-gu, Seoul/ Source: Seoul city government
AsiaToday reporter Kim Seo-kyung
Seoul Mayor Park Won-soon said he plans to spend approximately 1.7 trillion won worth public contributions (development profits) from the development of Hyundai Motor's Global Business Center (GBC) on constructing the Gangbukhoengdan line. The public contribution is a system in which local governments receive a portion of development profits of an operator in exchange for deregulation for the operator's development project, such as changing the legal use of landsite and raising floor area ratio.
"The Seoul city government approved the construction of the GBC in May, but it is frustrating that the current system allows spending public contributions of 1.7 trillion won created from construction only on Gangnam," Park wrote on Facebook. "We have asked the Ministry of Land, Infrastructure and Transport more than 20 times to expand the use of public contributions all over Seoul, but they are not revising it yet."
Later, the mayor told AsiaToday in a phone interview that the city government plans to spend the development profits generated by GBC development on constructing Gangbukhoengdan line, a future light rail running in an arc north of Seoul between Cheongnyangni and Mokdong.
The Gangbukhoengdan line is a light rail line newly included in the capital city's Second Stage Urban Railway Network Development Plan announced on February 20, 2019. The line received the highest score in terms of balanced regional development at the time of selecting the route. The route starts from Cheongnyangni Station in Dongdaemun-gu to Mokdong Station in Yangcheon-gu, connecting the city's eastern and western regions. Its construction is set to begin next year. It is known as the route that Park envisioned while living in his temporary rooftop house in Samyang-dol.
"It would be a win-win deal for both Gangnam and Gangbuk if the Gangbukhoengdan line is constructed with the GBC development profit of 1.7 trillion won," Park told AsiaToday. "The opening of the GBC itself would benefit Gangnam. For Gangbuk, urban infrastructure like public rental housing in addition to the light rail could be developed."
"Gangnam has a subway station in every district, but Gangbuk does not have many," he said. "Once the Gangbukhoengdan line is built, there will be dozens of subway stations in Yangcheon-gu, Gangseo-gu, Yeongdeungpo-gu, Mapo-gu, Seodaemun-gu, and Seongbuk-gu."
"The development profits from Gangnam region should be not monopolized by Gangnam," Park said. "It not only fuels property prices in Gangnam, but also does not match the wishes of citizens wishing for balanced development throughout the capital."
Back in May, the Seoul city government approved the construction of the 105-story GBC in Seoul.