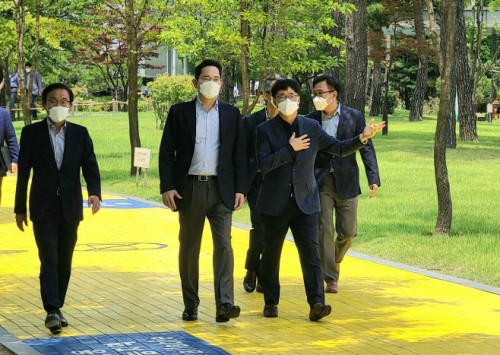 Samsung Electronics Vice Chairman Lee Jae-yong walks with top executives during his visit to the company's semiconductor research center in Hwaseong, Gyeonggi Province, June 19./ Source: Samsung Electronics
AsiaToday reporter Jeong Seok-man
An external review panel in South Korea recommended last Friday that prosecutors should not indict Samsung Group heir Lee Jae-yong over a 2015 merger and alleged accounting fraud. However, industry insiders say that Samsung uncertainties remain since the prosecution might ignore the panel's recommendation and push ahead with Lee's arrest. There is also concern that the prosecution's excessive investigation could adversely affect not only Samsung but also the national economy amid prolonged coronavirus crisis and escalating trade dispute between the United States and China.
Many experts agree that Samsung has been unable to operate normally since the vice chairman of Samsung Electronics and de facto leader of the country's largest conglomerate was being questioned by special prosecutors in November 2016.
During the past 4 years and 7 months, the group's heir was summoned by prosecutors 10 times and went through a revision of arrest warrant three times. A total of 80 trials have been held following the prosecution's indictment. Among them, Lee appeared to the court 70 times for a series of hearings.
Even though Lee avoided detention and the panel ruled in favor of his side, industry insiders say that Samsung and its heir Lee Jae-yong still face judicial risks.
This is because Lee's legal battle is not over, and the prosecution might ignore the panel and push ahead with Lee's arrest. In this case, there are concerns that legal risks surrounding Samsung will last up to 10 years as the management uncertainty remains. "If the prosecution pushes ahead with Lee's arrest over other similar issues, the so-called 'lost decade' may be realized," an official from the business community said.
The business community is concerned that judicial risks will hinder the group's business activities, leading to decrease in investment and lose its market share to competitors. This is why Lee recently visited company's key local semiconductor and consumer electronics business sites. He stressed the crisis consciousness and future technologies, saying, "We are in a situation facing severe risks." Lee recently unveiled a plan to invest 18 trillion won to expand the Pyeongtaek semiconductor production line.
After the panel's recommendation, Lee's lawyers said, "We thank the committee for giving Lee and Samsung a chance to focus on their business activities and overcome the current crisis."
Some are concerned that the prosecution's push for indictment will affect the group's creditworthiness. This is because risks surrounding Lee could affect the company's overseas projects.
"The prosecution must respect the panel's decision if it doesn't want to draw criticism that it does not respect the external review system," an official from the business community said.