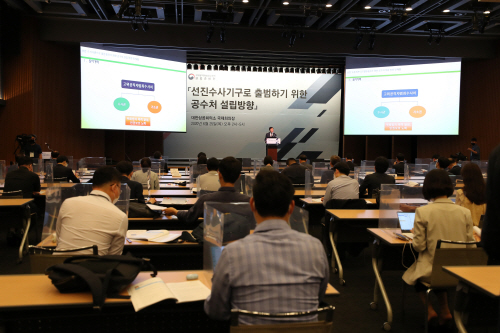 A public hearing entitled, "The direction of establishment of anti-corruption body as an advanced investigative agency," was held at the International Conference Hall of the Korea Chamber of Commerce and Industry in Seoul on June 25, 2020./ Source: Yonhap
AsiaToday reporters Heo Kyung-joon & Kim Hyun-goo
Experts pointed out that an independent anti-corruption investigation unit to be launched next month should be operated with separated powers of investigation and indictment.
A public hearing entitled, "The direction of establishment of anti-corruption body as an advanced investigative agency," was held at the International Conference Hall of the Korea Chamber of Commerce and Industry in Seoul on Thursday. During the hearing, law professor Han Sang-hoon of Yonsei University insisted that investigation and indictment powers should be separated within the body.
"The anti-corruption unit is dominating power to investigate corruption by high-ranking government officials," the professor said. "There is a need for check and balance within the unit by separating powers of investigation and indictment."
"They should set up an investigation division with professional investigation officers and a trial division with legal experts. It is not appropriate for a trial division prosecutor to be in charge of both investigation and indictment," he added.
The professor also pointed out that the current law involving the independent anti-corruption body follows the problematic structure of prosecution of the past. He claimed that the National Assembly failed to pay attention to details while hastily passing the relevant bill last year.
In this regard, Justice Minister Choo Mi-ae attended the hearing and said, "Things went wild when I claimed that the prosecution's investigative and indictment powers should be separated. They tried to put set me up as if I was a minister that looks after the government to incapacitate righteous prosecutors."
Some also stressed the anti-corruption body's political neutrality. "The essential condition of success for the anti-corruption probe unit is to secure political neutrality and independence from power," said Lee Chan-hee, president of the Korean Bar Association (KBA).