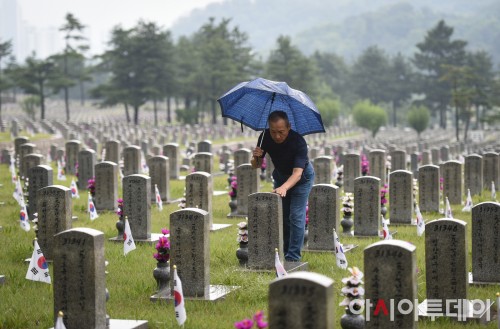 A man makes a deep bow at the National Cemetery in Seoul, Wednesday, a day ahead of the 70th anniversary of the Korean War's outbreak./ Photographed by Jung Jae-hoon
AsiaToday reporter Kim In-hee
"Men line up here!"
Although 70 years have passed since the end of roaring of guns, it is still vivid to Lee Hee-ok, 75, whose father passed away in the Korean War.
Mrs. Lee was a child born in the year of the Liberation of Korea in 1945. Her father, Lee Kyu-mok, worked in a munitions factor after graduating from middle school during the Japanese colonial period and was lucky enough to avoid being conscripted by the Japanese military. He got married and had a daughter in the year of the Liberation.
Mrs. Lee remembers her father as a skillful sword smith. "After the Liberation, he opened a blacksmith shop in Siheung County (now known as "Siheung-dong" in Seoul). He made and sold sickles, hoes, and mattocks. It was quite successful."
But this small happiness didn't last long. On the day when the noise of gunfire shook the Siheung County with the outbreak of Korean War, her father decided to flee to Namwon, where his mother's home was located.
Her father couldn't take her 5-year-old daughter from Siheung to Namwon on foot. The only transportation available was train, so her family decided to go to Suwon Station on foot and look for train tickets there. Mrs. Lee remembers it as if it were yesterday.
"It took a whole day to walk from Siheung to Suwon Station. Yeongdeungpo Station was closer, but my father told me to go to Suwon because going to the north might be dangerous. I can't remember the date, but I'm certain it was raining because it was rainy season. It was cold walking in the rain. Fortunately it stopped raining when I arrived at Suwon Station. Roasted barley appeased my hunger. A crowd of people continued to gather at the station to take a train," she said.
The date is estimated to be between June 28 and July 4, 1950, when the First Battle of Seoul took place. After July 4, North Korean forces were able to cross the Han River and occupy Seoul.
When her family was waiting for a train, the plaza in front of Suwon Station suddenly became chaotic.
"A truck came and the soldiers got off. By then, I've never seen a solider before, so I didn't even know they were soldiers. One of them shouted at us: "Men line up here!" But only a few people formed a queue. Then the soldiers squeezed in between the crowd and forced male people to go out and stand in line."
What she witnessed was forced conscription which was common in the early days of the Korean War. The Korean Army, who had repeatedly defeated in the early days of the war, forcibly took young male civilians for its military without a draft notice as long as they were able-bodied.
"The soldiers told my father to go out and stand in line. My father told them he couldn't leave his wife and child. They stared at my father and said, 'You must stand in line so you can take a train.' When my father didn't listen and said, 'If I ride in a train, I will take my wife and child, too,' they even cursed him out."
Lee Kyu-mok, who was forced to line up by the soldiers, is still missing. His wife, convinced that he was alive, had waited for him for her whole life and passed away in 2008 at the age of 80.
"My mother always told me, "Your father is captured in the north." We never moved because he might come back. My mom didn't get married for the second time, and had a hard time raising me by herself," she recalled.
There is now an apartment in Lee's smithy, and the name of the place has changed to Sinheung-dong from Siheung Country. But Mrs. Lee is still waiting for his father.
"The saddest thing is that I don't remember his face. I didn't have time to pack up photos on refuge way. When we arrived at my grandmother's house in Namwon, nobody was there. So we fled to Busan. When we came back to our house in Seoul later, everything was burned. There was nothing left to remember my father."
It took quite a long time for Mrs. Lee to be recognized as a family of veterans.
"The government had a poor record because my father was forcibly conscripted. He was first classified as a missing person, and was not recognized as a veteran. I tried to track him down in the military, but it was useless. Many years later, the military found my father's name on its record of military service. And then he was recognized as a veteran," she said.
As she says, the recognition of Korean War veterans relies heavily on the testimony of a fellow guarantor who fought together in the war due to the poor administrative system and loss of records. Lee Kyu-mok's case is a very lucky one since finding a fellow guarantor who participated in the war is like looking for a needle in a haystack.
According to the Ministry of Patriots and Veterans Affairs, the total number of soldiers and non-soldiers who fought in the Korean War is estimated at around 900,000, but only 470,000 are registered as Korean War veterans as of May 2019. More than 420,000 people had sacrificed their lives for the country and are not treated properly.
Mrs. Lee is now counting on the defense ministry's recovery operation. "70 years have passed. I'm old and I don't expect my father to be alive. But I still want to know where and how he died. As soon as the recovery operation began, I registered a gene. But there's no news about it."