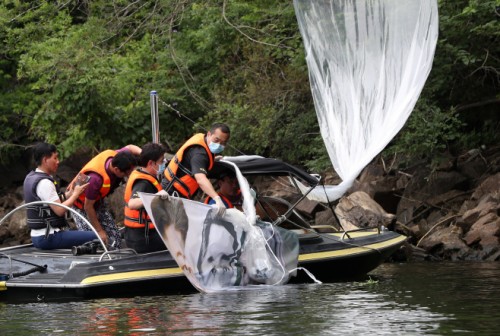 Police officers collect a balloon containing anti-Pyongyang leaflets in the valley at Hongcheon in Gangwon Province, on June 22, 2020./ Source: Yonhap News
Washington correspondent Ha Man-joo & reporter Lee Jang-won
The South Korean government took part Tuesday in adopting the UN resolution condemning North Korea's human rights violations. The North Korean representatives reacted strongly immediately, saying, "We reject the resolution." The North Korean authorities have not made any additional official announcement, but there is much attention towards how the adoption of UN resolution will affect the North's ongoing actions toward South Korea.
During the 43rd session held in Geneva, Switzerland, the United Nations Human Rights Council adopted the resolution for the 18th consecutive year. The adoption was made by 47 member nations by consensus without a vote. The South Korean government joined the agreement, but did not participate in co-writing the draft resolution for the second straight year. Observers say the decision was due to escalating inter-Korean tensions.
"We did not participate in co-writing the draft resolution by taking all the circumstances in the Korean Peninsula into consideration, the government said. "The circumstances in the Korean Peninsula refer to various factors, including our efforts to bring permanent peace to the peninsula, the special situation of inter-Korean relations, and more."
"We took part in adopting the resolution under the basic principle that it will work together with the international community to practically improve human rights situations in North Korea," the government said. "We will continue to make efforts to promote human rights in North Korea through peace and prosperity."
The government did not comment on the resolution condemning crimes against human rights in North Korea and urging it to take responsibility. The resolution includes for the first time the issue of Korean and Japanese nationals kidnapped by North Korea. It urged North Korea to resolve the issue of repatriating the abductees as soon as possible.
North Korea's ambassador to the UN, Han Tae-song, said his country "completely rejects" the resolution submitted by the European Union while calling for attention to human rights violation in western countries, citing the U.S. police killing of George Floyd, last month.
North Korea has stipulated human rights resolution as a provocation and shown strong opposition, which could become a variable in the already tensed inter-Korean relations. The North reaffirmed its plan for anti-Seoul leaflet campaign in the June 23 edition of the Rodong Sinmun. Meanwhile, Fighters for a Free North Korea, a group of North Korean defectors in the South, claimed Tuesday it sent around 500,000 anti-North Korea leaflets across the border, raising concerns of North Korean provocations.