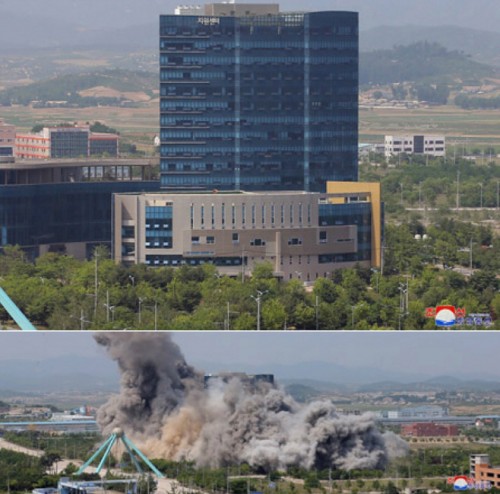 U.S. President Donald Trump on Wednesday extended for a year the existing sanctions against North Korea, citing the continued "unusual and extraordinary" threat posed by the regime. The photo, released by the Korean Central News Agency (KCNA) on June 17, 2020, shows the explosion of an inter-Korean liaison office in the North Korean border town of Kaesong at around 2:50 p.m. on June 16, 2020./ Captured by Yonhap News from KCNA website
Washington correspondent Ha Man-joo
U.S. President Donald Trump on Wednesday extended for a year the existing sanctions against North Korea, citing the continued "unusual and extraordinary" threat posed by the regime.
This is the first response from the United States to North Korea's continued hard-line steps that have been raising tensions on the Korean Peninsula. The U.S.' extension of sanctions on North Korea is seemingly aimed to apply pressure on the North.
In a notice and subsequent letter to Congress, Trump said he is renewing the "national emergency with respect to North Korea" that was first declared in Executive Order 13466 in June 2008 during the George W. Bush administration. Five other executive orders on North Korea sanctions have also been extended.
By law, the national emergency is automatically terminated unless the president renews it every year.
"The existence and risk of proliferation of weapons-usable fissile material on the Korean Peninsula and the actions and policies of the Government of North Korea continue to pose an unusual and extraordinary threat to the national security, foreign policy, and economy of the United States," Trump wrote in the notice. He also wrote that the North Korean government's provocative, destabilizing, and repressing actions and policies, such as the pursuit of nuclear and missile programs, "destabilize the Korean Peninsula and imperil United States Armed Forces, allies, and trading partners in the region."
Due to those reasons, Trump said that it was necessary to extend the national emergency that was declared by Executive Order 13466.