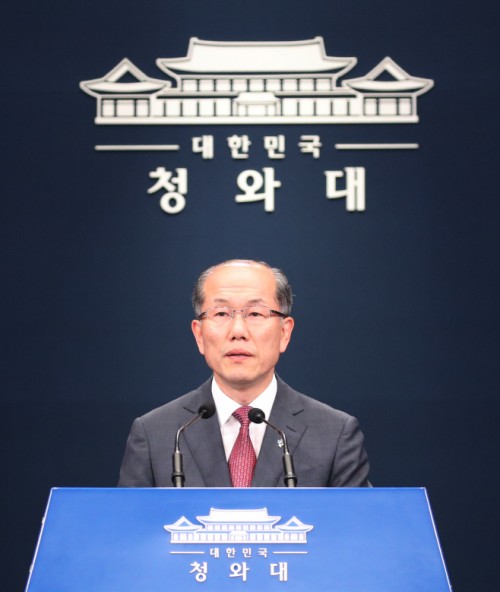 Kim Yu-geun, the NSO first deputy director, speaks at a briefing on June 16, 2020./ Source: Yonhap News
AsiaToday reporters Lee Seok-jong
As North Korea continued its harsh criticism of South Korea on Wednesday, South Korea's presidential office hit back strongly, further heightening tensions. Following the North's blowing up an inter-Korean liaison office building Tuesday, its military announced plans to redeploy troops in Kaesong Industrial Complex and Mount Kumgang, and restore guard posts removed from the Demilitarized Zone (DMZ) in an apparent move to abolish a military tension-reduction deal signed in 2018.
Kim Yo-jong, a powerful sister of North Korean leader Kim Jong-un, launched a harsh criticism of South Korean President Moon Jae-in over his remarks on inter-Korean relations on the 20th anniversary of the June 15 Joint Declaration. Kim described Moon's comments as "shameless sophistry." In response, Seoul's top office strongly condemned Kim for her rude criticism. "We clearly give a warning that we won't tolerate the North's unreasonable words and acts anymore," said Yoon Do-han, Cheong Wa Dae's senior secretary for public communication.
A spokesperson of the General Staff of the (North) Korean People's Army announced its plans to turn the Mount Kumgang tourist area and the Kaesong Industrial Complex region into military zones, and restore guard posts that had been removed from the DMZ under the September 19 military agreement. In response, the South Korean defense ministry warned that the North will pay the price if it actually takes military action.
The unification ministry also expressed strong regrets over the North's announcement and urged it to "stop worsening situations further."
The government's message came immediately after an emergency meeting of the National Security Council (NSC). The strong response from South Korea's presidential office, defense and unification ministries against the North is a rare move, which indicates that the Moon administration will not be swayed by North Korea's rhetoric and will not allow Kim Yo-jong's rude comments on Moon anymore.
Besides, it reflects Moon's strong will to not overlook attempts to damage the trust and agreements built between the two sides over the past two years, such as the April 27 Panmunjom Declaration and the September 19 Pyongyang Declaration. However, options for a turnaround appear limited for the Moon administration.
Regarding countermeasures, a high-profile official at Cheong Wa Dae said, "We will carefully watch the situation and carefully decide what to do. Besides, even if there are any measures, it is difficult to talk about it in public."
Separately today, Moon held a luncheon with former unification ministers as well as his special advisors for foreign affairs and national security to discuss the current situation. During the luncheon, they shared an analysis of North Korea's threats and warnings and discussed ways to resolve the situation.
Amid rising tensions with the North, South Korea's minister of unification, Kim Yeon-chul, has offered to resign, saying he will take responsibility for the situation.