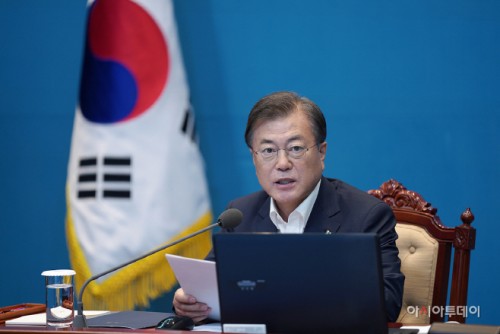 President Moon Jae-in speaks during a meeting with top presidential advisers at the presidential Cheong Wa Dae on June 15, 2020./ Source: Cheong Wa Dae
AsiaToday reporter Lee Seok-jong
President Moon Jae-in offered Monday to North Korea finding a breakthrough together through dialogue. "As the masters of the Korean Peninsula's fate, I hope the South and the North to make their own decisions to find and pursue their own projects," he proposed.
"We have come to a time when we cannot wait any more for the conditions to improve," Moon said during a weekly meeting with senior aides at Cheong Wa Dae.
"I'm well aware of Chairman Kim Jong-un's bold decision and efforts to dramatically change the situation surrounding the Korean Peninsula. I also feel very sorry that progress hasn't been made in Seoul-Pyongyang and Pyongyang-Washington relations as expected," he said.
"I will continue to make efforts to win the international community's support. We hope that North Korea will open the door for dialogue and gather wisdom together with us," he said.
"We cannot let the promise of peace on the Korean Peninsula, which Chairman Kim Jong-un and I made to the 800 million people of our two countries, revert," Moon said. "The April 28 Panmunjom Declaration and the Sept. 18 Pyongyang Joint Declaration are solemn promises that both the South and the North must faithfully carry out," the president said.
"This is a firm principle that shouldn't be swayed by any change in security conditions," he said. "Our government will make endless efforts to implement the agreements we have made."
"We will keep up with our hard-earned achievements. The North should not attempt to put inter-Korean relations back to the era of confrontation by cutting off communication and creating tensions," he said.
"We hope that the uncomfortable and difficult problems facing the two sides will be solved through communication and cooperation," he added.
Moon said he' commemorating the 20th anniversary of the June 15 Joint Declaration with a "heavy heart," apparently referring to frosty inter-Korean relations.
"In fact, it was a historical event that the leaders of the South and the North met for a talk for the first time in 50 years since the outbreak of the Korean War," Moon said. "The more serious the situation in the inter-Korean relations is, the more we need to look back on the spirit and achievements of the June 15 Declaration."
"The direction which the South and the North must take is clear. We must not again stop current inter-Korean relations after managing to overcome the long severance and crisis of war. The government will do its best to continue dialogue (with North Korea)," he stressed.