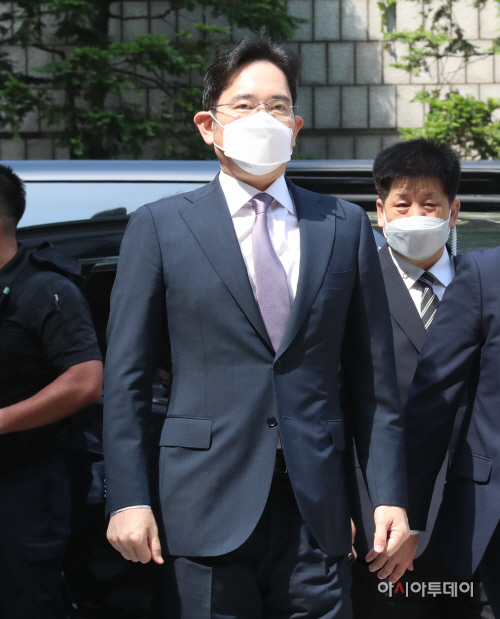 Samsung Electronics vice chairman Lee Jae-yong appears at the Seoul Central District Court on June 8 for questioning./ Photographed by Jung Jae-hoon
AsiaToday reporter Lee Wook-jae
A committee of outside experts will be convened to review the validity of the indictment of Samsung Electronics Vice Chairman Lee Jae-yong.
As a result, attention is now focused on what judgment will be made by the external committee regarding the prosecution's investigation into the case involving a controversial merger and alleged accounting fraud.
According to the prosecutors on Thursday, a citizens' panel with the Seoul Central District Prosecutors Office voted in favor of outside review of the ongoing probe. The 15-member panel was comprised of a teacher, a former public servant, a taxi driver, a self-employed worker, and more.
In accordance with the relevant regulations, prosecutor-general Yoon Seok-youl must convene the Investigation Deliberation Committee once the citizens' group makes such a decision.
The committee will review the Samsung heir case, and their judgment will be 'recommended'. Therefore, the prosecution is not obliged to follow the committee's decision.
However, with the court's decision not to arrest Lee, a decision by the committee is expected to influence prosecution's move to indict him to some degree. The prosecution has accepted experts' conclusions in most cases.
The prosecution will be able to justify its conduct if the experts' committee concludes that Lee's indictment is fair enough as the prosecution wishes.
However, it the committee concludes that Lee's indictment is unfair, the prosecution will lose its face and encounter a tough situation.
If the prosecution actually turns over the committee's conclusion and pushes ahead with Lee's indictment, it is likely to face public criticism since it will be seen as reversing the purpose of the outside review system.
If the prosecution decides not to indict Lee, the key suspect will not be put on trial in an unprecedented move and the prosecution will have to conclude the case empty-handed.