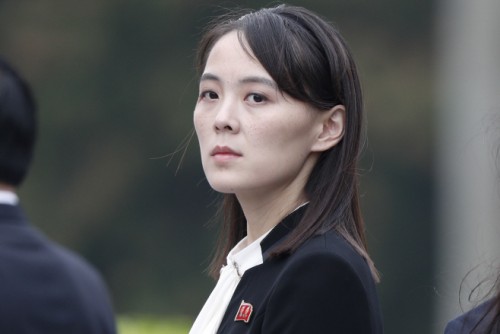 Kim Yo-jong, sister of North Korean leader Kim Jong-un/ Source: Yonhap News
AsiaToday reporter Lee Jang-won
Kim Yo-jong, who serves as first vice department director of the Central Committee of the ruling Workers' Party of Korea, has warned South Korea on Thursday to stop anti-Pyongyang leaflets coming over the border, threatening to shut down an inter-Korean liaison office and scrap the Sept. 19 military agreement. The powerful sister of North Korean leader Kim Jong-un requested the South Korean government to take 'corresponding steps.'
The South Korean government said it would legislate a ban on sending anti-Pyongyang leaflets into the communist nation. However, enacting a law banning leaflet-sending could spark an outcry over the possible infringement of the right to freedom of expression.
The powerful sister of North Korean leader Kim Jong-un issued a statement denouncing the flying-in of anti-Pyongyang leaflets by defectors as a hostile act. "The South Korean officials will have to fully ready to face the consequences, whether it be the abolition of the Mount Geumgang tour program, a complete removal of the Gaesong Industrial Complex, a closure of the inter-Korean liaison office or the scrapping of the North-South military agreement," she said.
She called those defectors "human scum", urging South Korea to enact a law against such act. "They should at least make a law to stop the farce of human scum to take thoroughgoing preventive measures against any inglorious things," she said.
Hours later, South Korean Unification Ministry held an unscheduled briefing calling for a halt to the leaflet campaigns. "Any activity that threatens inter-Korean quarantine cooperation and the lives and property of residents must be stopped," ministry spokesperson Yoh Sang-key said. "We are seeking legal revisions to fundamentally resolve tension-creating activities in the border region," he said.
The presidential Cheong Wa Dae stressed that it would stop the distribution of anti-Pyongyang leaflets by North Korean defectors. "The leaflets sent to North Korea are completely useless," a key presidential aide said. "I think there will be a response to actions that pose a threat to national security." The issue seems to have been discussed in a session of the National Security Council (NSC) standing committee. South Korean Defense Ministry also said that all hostile activities in the border area must be stopped. "The defense ministry maintains our position that the Sept. 19 military agreement should be kept," the ministry said.
The issue of banning anti-Pyongyang leaflet campaign has been discussed for a long time, but it did not lead to actual legislation due to the possible infringement of the right to freedom of expression. In fact, if the law is actually enacted, it could spark an outcry. However, things could be different as the ruling Democratic Party (DP) won a sweeping victory in the April 15 general election.