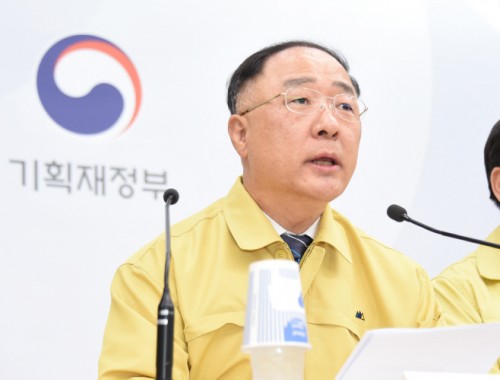 Deputy Prime Minister and Finance Minister Hong Nam-ki speaks during press briefing at the Sejong Complex on May 29, 2020./ Source: Ministry of Economy and Finance
AsiaToday reporter Cho Sang-eun
The South Korean government on Wednesday proposed an extra budget plan worth 35.3 trillion won (US$29 billion) to overcome the unprecedented economic crisis triggered by the coronavirus pandemic and prepare the country in the post-coronavirus era.
The government finalized the third extra budget in an extraordinary Cabinet meeting.
The latest supplementary budget bill is aimed at bracing for the forthcoming post-coronavirus era.
"This extra budget will serve as a valuable foundation for the nation to overcome the virus-driven economic crisis and create a new growth engine in the post-coronavirus era," said Finance Minister Hong Nam-ki.
The third budget follows 11.7 trillion won extra budget created in March and 12.2 trillion won in April. It is the country's biggest-ever supplementary size, beating 28.4 trillion won in 2009 in the wake of global financial crisis.
With the latest increase, the total of the nation's stimulus package to tackle COVID-19 outbreak would rise to 270 trillion won.
The new package will be composed of 11.4 trillion won in tax revenue shortfall and 23.9 trillion won in increased taxes. To fund the third budget, 10.1 trillion would be financed through saving budget expenditures and 1.4 trillion won through spare funds while the remaining 23.8 trillion won will be raised through debt issues.
The government decided to focus on overcoming the economic crisis with the third budget plan.
Of the new budget, 11.3 trillion won is earmarked for economic recovery. For instance, 3.7 trillion won will be allocated to boost domestic spending, exports and regional economy, 5.1 trillion won to carry out Korean New Deal projects, and 2.5 trillion won to enhance the country's emergency countering system and nurture K-quarantine industry.
Some 10 trillion won will go for subsidies to strengthen social safety nets for people who recently lost jobs and create jobs.
The government plans to issue deficit-covering bonds that worth some 24 trillion won, which could aggravate the country's fiscal health.
The operational budget balance deficit-GDP ratio is projected to reach 5.8 percent, and the debt-to-GDP ratio is expected to rise to 43.5 percent.
The country's national debt is forecast to jump by 99.4 trillion won on-year to 840.2 trillion won.
Despite growing concerns about the nation's fiscal soundness, the government stressed the role of fiscal policies.
We are facing an economic crisis now, and we had no choice but to do more on the fiscal front as fiscal policies are the last bulwark (of government policies)," Hong said. "The third extra budget will increase national debt, but the nation must endure it because it is necessary to promote growth and recover fiscal soundness within a short period of time," he added.