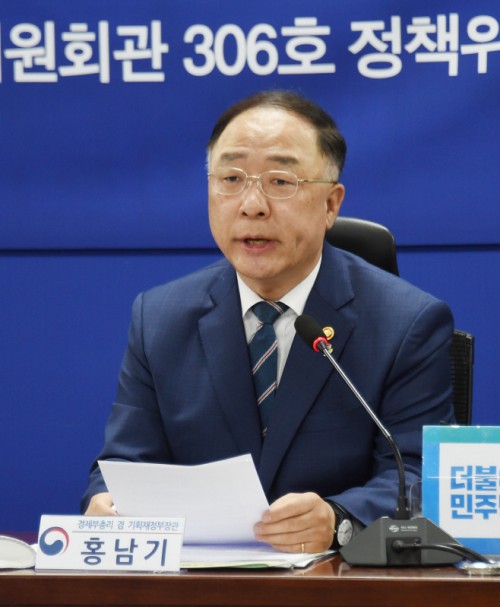 Deputy Prime Minister and Finance Minister Hong Nam-ki speaks at a meeting for economic directives for the latter half of 2020 held at the National Assembly on June 1, 2020./ Source: The Ministry of Economy and Finance
AsiaToday reporter Cho Sang-eun
The government's economic policy in the second half of this year will focus on reviving the nation's economy, which has been significantly hit by the coronavirus pandemic. The 76-trillion-won Korean New Deal initiative and 100-trillion-won investment is designed to reshape the post-virus economy.
At an emergency economic meeting led by President Moon Jae-in on Monday, the government announced a series of economic directives for the latter half of 2020, aimed mostly at reinvigorating the economy through large-scale investment and creating jobs.
Under the policy, the government will invest some 31 trillion won to create 550,000 jobs by 2021. Another 45 trillion won will be spent by 2025. In addition, the government plans to push for 100 trillion-won investment projects, which will include large-scale projects by state-run firms.
The government will embark on 8 projects within the year as planned, including the establishment of advanced logistics complex in Yangjae, construction of an export food production plant in Miryang, construction of Hyundai Motor's Global Business Center (GBC) in Samseong-dong, and more.
The government will promptly carry out the remaining portion of its target investment of some 60 trillion won in public institutions this year. It has completed investing 17.2 trillion won by April.
The government also plans to export field-proven Korean quarantine technologies to markets in need, laying the groundwork for local manufacturers and developers of medical devices and treatment technologies to gain a competitive edge globally.
Another key task of the government is the establishment of employment safety net. It plans to offer a financial and taxation package to those companies and employers that entered into an agreement of employment retention. It also plans to give 500,000 won each for three months to temporary or freelance workers who are not covered by the state employment insurance.