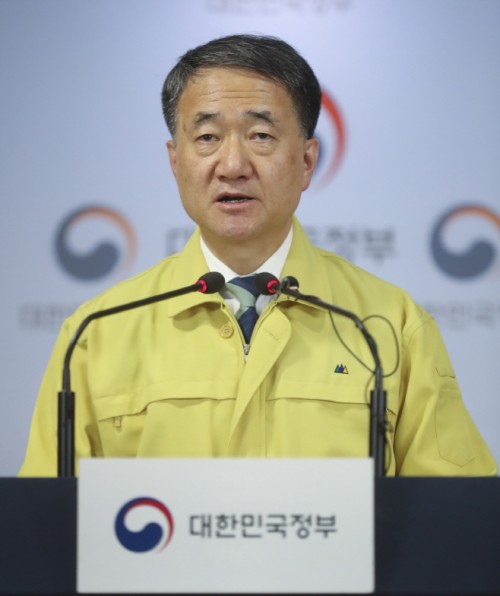 Health Minister Park Neung-hoo/ Source: Yonhap
AsiaToday reporter Jang Ji-young
South Korea said Thursday that it will strengthen quarantine measures in the Seoul metropolitan area over the next two weeks to step further spread of the new coronavirus. The government announced its measures in an emergency meeting after the country reported a whopping 79 new cases of COVID-19 mostly linked to a Coupang logistics center in Bucheon. As the government believes the next two weeks are crucial to prevent the spread of the infection in the metropolitan area, it strongly urged citizens to stop visiting crowded facilities such as private institutes, PC gaming cafes and karaoke bars. The move came as the number of daily new infections rose above 50 for the first time in nearly two months.
In particular, the health officials urged citizens to refrain from going out, meetings and events. They also urged companies to adopt flexible work systems and follow quarantine measures.
The Korea Centers for Disease Control and Prevention (KCDC) said Thursday that it confirmed 79 new cases the previous day, raising the national tally to 11,344. It is the largest increase since 81 cases were announced on April 5. There have been at least 82 infections in relation to the Coupang logistics center in Bucheon, Gyeonggi Province. Sixty-three are center personnel while the remaining 19 are those that came into contact with. By region, Incheon has the most infections at 38 followed by 27 in Gyeonggi and 17 in Seoul.
The number of new cases linked to the logistics center is expected to continue rising. According to Gyeonggi's Goyang city and Coupang, a worker at another logistics center owned by Coupang in Goyang has been tested positive for COVID-19 on Wednesday and was sent to Incheon Medical Center. "As soon as one of our employees was confirmed, we sent home and self-quarantined employees who had contact with the employee," Coupang said in a statement. The company shut down its facility in Goyang.
The health authorities believe that Coupang's logistics center may have not followed basic quarantine guidelines. "Due to the nature of logics center, employees work intensively within a short period of time. But it seems the logistics center didn't follow quarantine guidelines properly such as wearing a mask," said Health Minister Park Neung-hoo. "In order to minimize group clusters, it is necessary to strengthen management of highly vulnerable facilities and follow proper preventative guidelines."
All multi-use facilities in the capital and surrounding areas will be temporarily closed. While stressing that an everyday life distancing scheme will remain in place, Park said quarantine guidelines will be strengthened for two weeks through June 14 in Seoul metropolitan area.
"All public and multi-use facilities in Seoul metropolitan area, including training institutes, art galleries, museums, parks and national theaters, will be shut down during this period," Park said. "We will make sure that public organizations adopt flexible work systems in order to avoid crowded places."
Entertainment establishments in the metropolitan area will be strongly advised to close down over the period, according to the health minister.