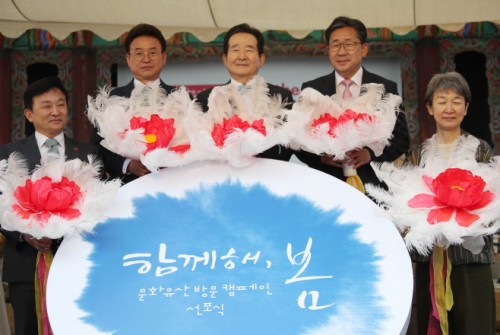 Prime Minister Chung Sye-kyun (third from left) and other officials post with artificial flowers at a ceremony in Seoul on May 26, 2020, to declare a campaign to promote tourism to the nation's major cultural heritage sites./ Source: Yonhap News
AsiaToday reporter Lee Seok-jong
Prime Minister Chung Sye-kyun is taking steps in preparation for the post COVID-19 era.
The prime minister has been presiding over every meeting at the Central Disaster and Safety Countermeasures Headquarters without taking a day off.
While he has been focusing on discussing measures to contain a further spread of the COVID-19, he is now preemptively preparing for the post-COVID-19 era through weekly meeting with President Moon Jae-in and experts in various fields.
Chung held the 5th national tourism strategy meeting at the Seoul Government Complex on Tuesday to boost domestic tourism industry, which is one of the hardest-hit by the outbreak of COVID-19, and announced a new plan to activate the domestic tourism market supported by field-proven Korean quarantine system.
Under the plan, the government will issue 1 million accommodation coupons that offer discount up to 40,000 won starting in August.
In addition, the government will implement various measures to promote domestic tourism, such as offering 30% discount coupons for booking travel packages.
"The Covid-19 has unprecedented effect on several economic and social sectors. The tourism industry is one of the hardest hit by the coronavirus," Chung said. "As the first step for new tourism since the COVID-19 crisis, the government has prepared guidelines for travelers to enjoy traveling while keeping ourselves and our community safe."
"Because of the COVID-19 outbreak, many people prefer trips with limited face-to-face contact with others. Therefore, we need to look for a suitable tourism resource," Chung said. "If people discover the hidden charm of our country through this, it will create a new virtuous cycle of domestic tourism." The prime minister asked relevant ministries and local governments to discover tourist spots suitable for new tourism methods.
The government decided to extend its two-week travel period from May 30 to June 14 to one month from June 20 to July 19, in order to activate the off-season domestic travel.
In cooperation with the Korea Railroad Corporation, highway bus carriers, and shipping companies, the government will sell exclusive transportation tickets at significantly discounted price only during the travel week period.
The government plans to issue 1 million accommodation coupons that are available on online booking sites, and provide a 30% discount on pre-paid travel products for 150,000 travelers.