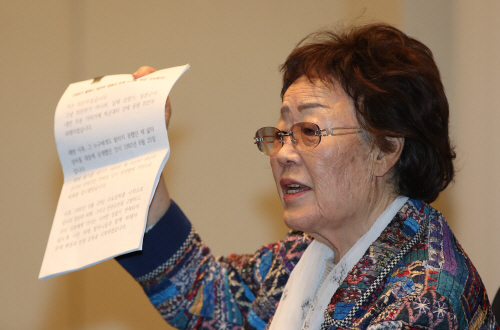 Lee Yong-soo, a surviving victim of Japan's wartime sex slavery, holds a press conference in Daegu, 302 kilometers southeast of Seoul, on May 25, 2020./ Source: Yonhap
AsiaToday reporter Woo Jong-woon
Lee Yong-soo, a 92-year-old victim of the Japanese military's sexual slavery during World War II, held a press conference on Monday, accusing a longstanding advocacy group for selling out the victims to raise donations. "The victims did not even know why the group collected public donations," she said. This was her second press conference since she accused the civic group, the Korean Council for Justice and Remembrance for the Issues of Military Sexual Slavery by Japan, of misusing funds, earlier this month.
"The group talked about the comfort women issue, but they were selling out the victims," Lee said. "The group asked us where we were taken to. Then I saw the group publishing and selling books. But I didn't even know what the books were for. I was taken to various places to testify."
Lee accused the organization's former head Yoon Mi-hyang, who was elected as a proportional representative from the ruling Democratic Party in the April general election, for using aged victims to raise funds and help promote the cause of the group. "Yoon and I have been working together for thirty years, and she is so shameless. She did not even consult with me before deciding to become a lawmaker," Lee said, refusing to accept an apology recently offered by Yoon. "I do not know what she is apologizing for."
"When I held my first press conference, I said I blamed someone and that they had done wrong. But since then, many unthinkable things have emerged. I think that's something for the prosecutors to handle," Lee said. The "unthinkable things" seem to refer to snowballing allegations raised against Yoon and the civic group. Yoon denied all the allegations and did not show up at Monday's press conference, although Lee had asked her to attend when the two met.
Lee also criticized the group's failure to distinguish victims of Japan's wartime sexual slavery from Koreans forced into labor during Japan's colonization of Korea. She pointed out that the organization's campaign to seek justice for both sides, which she said is different in nature, led to a failure in resolving the comfort women issue.
"We are not the host of the press conference. I don't want to think of it as a group opinion," said Seo Hyuk-soo, the representative of Daegu Citizen's Forum for Halmuni. "This press conference was held to deliver Lee's opinion. We just prepared this so that she can hold a press conference in a way she wants."
On May 7, Lee held her first press conference and blamed the advocacy group for embezzling donations made to help her and other victims, saying, "Students make donations from their pocket money, but the money has never been used for the (victim) grandmothers."