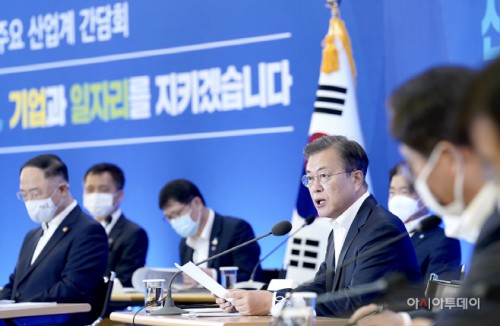 President Moon Jae-in speaks at a meeting with business leaders at the Korea International Trade Association in southern Seoul on May 21, 2020./ Source: Cheong Wa Dae
AsiaToday reporter Lee Seok-jong
President Moon Jae-in suggested Thursday that the government will provide additional support to businesses if a grand social compromise is achieved among labor, management and government, in order to overcome the economic crisis caused by the coronavirus pandemic.
In particular, the president stressed that the government and corporate sector are in the "same boat" amid the COVID-19 crisis, calling for joint efforts for a grand social compromise and the Korean version of the New Deal, which has a focus on the fields of digital and green projects.
Moon made the remarks in a meeting with business leaders held at the Korea International Trade Association (KITA) in Seoul.
Participants included Korea Chamber of Commerce and Industry Chairman Park Yong-man, KITA Chairman Kim Young-joo, Korean Air CEO Woo Ki-hong, Sharp Aviation K President Paik Soon-suk, Korea Shipowners' Association Chairman Chung Tae-soon, HMM President Bae Jae-hoon, Doosan Infracore President Son Dong-yeon, Hyundai Motor President Lee Won-hee, GS Caltex President Hur Sae-hong, POSCO Chairman Choi Jeong-woo, Hyundai Heavy Industries President Ka Sam-hyun, and more.
"The government and firms are passing through a dark tunnel aboard the same boat," Moon said. "The government will do its best to help companies resolve the liquidity problem caused by sharp decline in corporate sales."
"The government and businesses should work together as if they are in the same boat. With such efforts, South Korea will be able to become a leader in economic recovery as it has been in quarantine measures," the president said.
"The ongoing crisis offers an important chance for grand social compromise to share pain," he said.
"In order to meet the requirements for the government's emergency relief funds, an agreement should be reached between labor and management at business level. Furthermore, it is necessary that labor and management circles as well as the government share pain," Moon said.
The government's emergency relief funds will be given to firms that plan to maintain at least 90% of their employment for the coming six months.
Moon also called on companies to prepare for the post-coronavirus era.
"It is obvious that things will go even more digital in the post-COVID-19 era. In response to climate change, the eco-friendly and decarbonization era will be accelerated," he said. "I ask companies to make efforts to respond to the post-coronavirus era."
"I am confident that a joint effort between the government and companies to overcome the crisis will give great hope to people," he said.