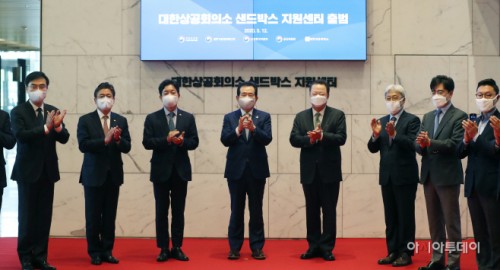 Prime Minister Chung Sye-kyun, KCCI Chairman Park Yong-maan, and business leaders including Samsung Electronics President Rhee In-yong and Hyundai Motor President Kong Young-woon attend a launch ceremony for the country's first public-private sandbox support center at the KCCI on May 12, 2020./ Photographed by Song Eui-joo (songuijoo@)
By AsiaToday reporter Lee Seok-jong
The COVID-19 pandemic is posing an unprecedented economic crisis for the South Korean economy.
Along with a slowdown in the country's manufacturing sector as well as demographic and employment cliff, the shutdown of Chinese, European and US markets caused by the COVID-19 crisis is threatening the country's export-driven economy even further.
The South Korean economy needs to make a special breakthrough to overcome the crisis. The government and the ruling party in charge of national administration ought to revive the shattered economy.
Besides, the landslide victory of President Moon Jae-in's ruling party in the April 15 general elections reflects a consensus of public opinion that both the government and the powerful ruling party should prepare more practical and proactive support measures to prevent an economic collapse.
Many believe that the ruling party and the government should present practical and immediate support measures and institutional support rather than simply holding emergency economic council sessions at regular base.
President Moon Jae-in and Prime Minister Chung Sye-kyun proposed an alternative on Tuesday to overcome the economic crisis through speedy regulatory reforms.
"We need to boldly remove the obstacles on the way towards an advanced economy," the president said in a Cabinet meeting in Cheong Wa Dae. "I ask the ministries to be active in preparing an institutional environment for regulatory reforms so that creative thimking and constant challenges can become the dynamics of our economy."
"We are speeding up regulatory reforms through designation of regulation-free special zones and establishment of regulatory sandbox, but we also need to speed up the related work," Moon said. "I ask the related ministries to strengthen communication so that improvements can be updated immediately."
Moon's request came in the process of deliberation and resolution of the 'Amendment to the Ministry of SMEs and Startups (MSS) and its affiliated organizations', which extends the term of the Regulation-Free Special Zone Planning Group by two years.
In this regard, Blue House deputy spokesperson Yoon Jae-kwan said, "The two-year extension of the organization related to regulation-free special zones has a symbolic meaning that the government will work harder for regulatory innovation. The president's re-emphasis on regulatory innovation at a Cabinet meeting is his request for the ministries' hard efforts to overcome the economic crisis."
On the same day, a launch ceremony for the country's first public-private sandbox support center was held at the Korea Chamber of Commerce and Industry (KCCI). The event was attended by Prime Minister Chung Sye-kyun and major business leaders.
The prime minister said, "The core task of the post-corona era is carrying out regulatory innovation." He stressed the active use of the regulatory sandbox to keep the golden time of innovation in new industries.
"The government will do its best to support companies to revitalize the economy," Chung said. "I ask the companies to take advantage of the sandbox support center. I also ask the KCCI to make the system better utilized by standing in the position of companies."