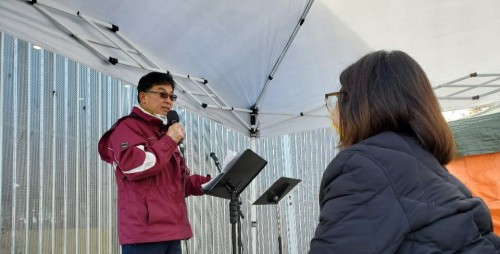 Pastor JongHuen Yang of Vancouver Antioch Church preaches the gospel of Jesus Christ to homeless drug addicts on April 26, 2020./ Source: Vancouver Lord's Will Antioch Church
By AsiaToday reporter An Jung-hwan
Pastor Yang is pleased to fulfill his mission to spread the gospel to homeless drug addicts in Vancouver, Canada, amid the coronavirus war. He said nothing would be happier if they hear the gospel at least once, accept the Lord, and receive salvation before they die.
JongHuen Yang, a 60-year-old pastor of the Antioch Church in Canada, is fighting against the COVID-19 pandemic that hit Oppenheimer Park and Hastings Street in downtown Vancouver, Canada. He is risking his own life to preach the Gospel and offer free bread, milk, fruits and masks to many homeless people.
Pastor JongHuen Yang, who emigrated from South Korea 12 years ago, said, "God told me that I should preach the gospel to homeless drug addicts and let them become worshipers, and that is what He would be most pleased with."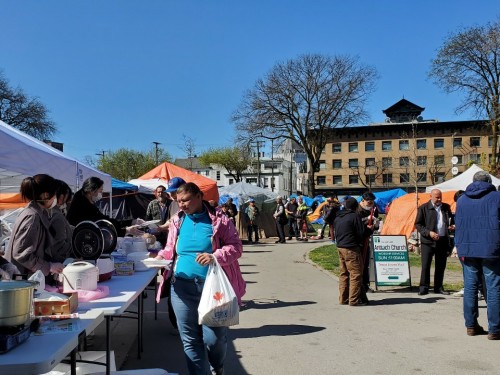 Despite the COVID-19 crisis, Rev. JongHuen Yang and saints of Vancouver Lord's Will Antioch Church are sharing food, donated by senior deaconess, with the homeless at Oppenheimer Park on April 12, 2020./ Source: Vancouver Lord's Will Antioch Church
The pastor has been spraying disinfectant on Oppenheimer Park and Hastings Street since April 23 and handing out masks and sanitizers to homeless people every day. As a result of this effort, the number of homeless people wearing masks is increasing in this area where there were no homeless people wearing masks. With the dedication and service of Yang Seok-woo, who runs Hiel Cafe, Antiock church shares many kinds of salads, bread, fruit and milk to starving and malnourished homeless people every Wednesday and Sunday. Senior Deaconess Seok-woo Yang's families also help the homeless.
Pastor Yang, who overcame many hardships and adversities with faith in his immigrant life, said in a telephone interview with AsiaToday on May 5, "These days, most restaurants are closed due to the coronavirus crisis, Missionaries who provided food as well as street food providers are almost gone. The homeless who are addicted to drugs are dying from hunger."
After graduating from Chongshin Theological Seminary and receiving ordination from Presbyterian Church in Korea, he served as an associate pastor of the Daejeon Central Presbyterian Church. After being offered a biblical counseling professor at the Vancouver Reformed Theological Seminary in 2009, he immigrated to Canada with his family.
He secretly shed a lot of tears when he came to Canada as he went through a lot of pain while managing his own farm for eight years to teach his three daughters, enduring his ministry and his life as an assistant religious worker without payment.
But in the midst of that, he was not frustrated but relied only on Jesus Christ, the only Wish.
After planting a church in Vancouver in 2015, the pastor worshiped at home. Since then, many hardships and adversities have come and he left the farm.
He said "I have vowed to devote myself to finding what God is most pleased about in Canada through a 40-day fast in 2017, and then I happened to meet Pastor Deborah Jung, who serves as a compassionate ministry in Hastings Street. I heard about her ministry and helped for months."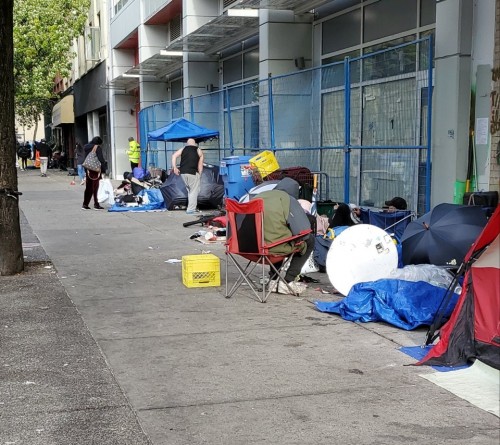 Pastor JongHuen Yang of Vancouver Lord's Antioch Church preaches the gospel to homeless drug addicts at the Hastings Street and worships those who have received Jesus Christ as their savior./ Source: Vancouver Lord's Antioch Church
"I suddenly realized that the ruler of the power of the air weighed down the entire Hasting streets and dominated thousands of homeless people," he said. "When I thought of the miserable lives of drug-addicted homeless people, I shed endless tears. I walked around the Hastings streets like homeless people, lamenting my inability to help them," he recalled.
Pastor Yang realized the holy words:"I tell you the truth, whatever you did not do for one of the least of these, you did not do for me." After deeply repenting to God, he realized the calling of the Lord telling him to preach the gospel of Jesus Christ to the drug-addicted homeless who are possessed by evil spirits.
Pastor Yang began to preach the gospel to homeless people in February last year. Those who were addicted to drugs were miserable. There were too many people on the streets who were hit by Morphine or Heroin, inhaled and hallucinated. During the first ministry of the homeless, pastor Yang also had a lot of insults and threats of murder.
"God showed me a lot of evidence to comfort me and convince me that God had entrusted me with this ministry, saying, "There have been a lot of difficulties so far, but I'm fulfilling this ministry with joy and gratitude," he said.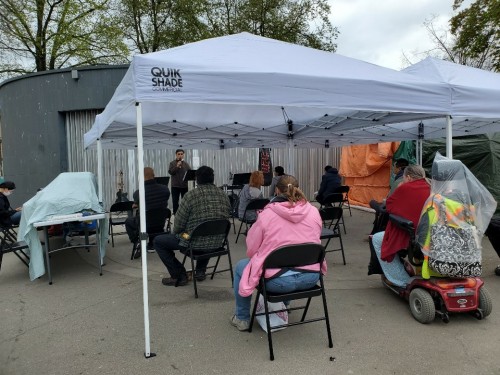 Homeless people in Vancouver are listening to Pastor Yang's sermon preaching the gospel of Jesus Christ. Most homeless people have been abandoned by their families because of drug addiction./ Source: Vancouver Lord's will Antioch Church
His wife Ae-sun and his daughters Ha-young and Ha-ram are also serving homeless people who are addicted to drugs. The eldest daughter Ha-eun and her husband are praying for this ministry in Toronto and served homeless people when they came in Vancouver. Associate pastor Chungyun Kim and Byung-heon Lee are helping him as well.
Pastor Yang said that whenever he is exhausted, he recalls the following Bible verses, "And the gospel of kingdom will be preached in the whole world as a testimony to all nations, and then the end will come," and "But you will receive power when the Holy Spirit comes on you, and you will be my witnesses in Jerusalem, and in all Judea, and Samaria and the ends of the earth." Then he preaches to many dying homeless spirits.
"I want to spread the gospel until the day the Lord calls me and lead the homeless in Hastings Street and Oppenheimer Park to Jesus Christ. I intend to guide God to those who worship him. I want to establish them as worshipers of God," he said. "And I sincerely hope that they will be evangelists who serve the Lord's orders on earth."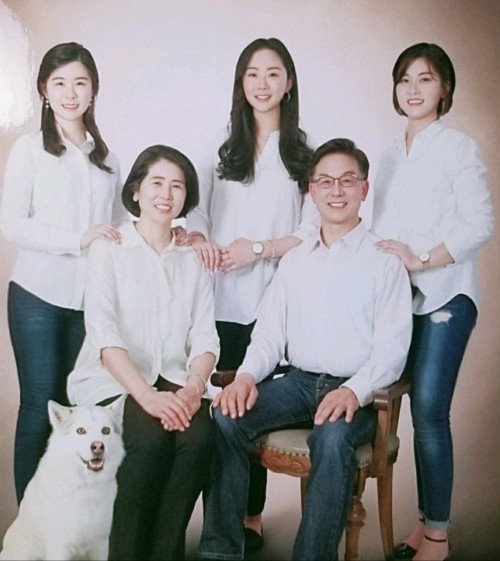 Pastor JongHuen Yang and family members of Vancouver Lord's Antioch Church are overcoming many hardships and adversities through God's grace to serve the drug-addicted homeless. (From left of the first row) Ae-sun Jung, Rev. JongHuen Yang. (From left of the second row) Ha-eun Yang, Ha-young Yang, Ha-ram Yang/ Source: Vancouver Lord's Will Antioch Church