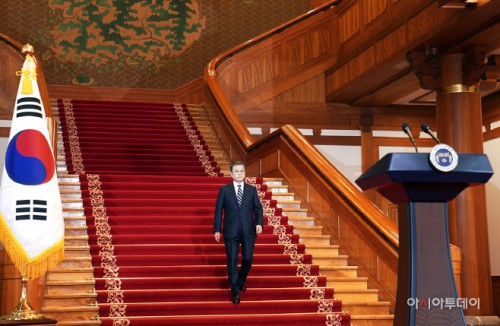 President Moon Jae-in is scheduled to address the nation from Cheong Wa Dae on Sunday, his third inauguration anniversary. The photo shows the president arriving for his New Year's speech at the presidential Cheong Wa Dae on Jan. 7, 2020./ Source: Cheong Wa Dae
By AsiaToday reporter Lee Seok-jong
President Moon Jae-in marks his third year in office on Sunday. The biggest challenge the president is facing is to overcome the COVID-19 crisis.
As South Korea has managed to flatten the curve of COVID-19 infections, the key to Moon's 'post-coronavirus' initiative is expected to focus on the economic sector. He is also expected to devise a plan to resume his Korean Peninsula peace initiative.
The president is expected to deliver a special address to the nation on his post-corona policy vision at the presidential Cheong Wa Dae on Sunday.
The COVID-19 pandemic not only posed a special threat to people's health but also gave a significant impact on the economy. While the virus outbreak has caused global supply chain disruptions, experts continue to give gloomy forecast on the world economy.
For this reason, the South Korean president is expected to focus his efforts on revitalizing the economy. In particular, he is expected to map out the Korean-style New Deal project from the second half of this year.
The Korean New Deal will include polices to nurture emerging technologies that have been thrust into the limelight in the coronavirus crisis, such as remote medical services and online educational technologies that do not require physical contact between users.
Moon's New Deal program is not simply aimed at minimizing the impact of the COVID-19, but actively creating new growth engines for the Korean economy and proactively responding to changes of the world economic order in the post-corona era.
The president has been presiding over almost every weekly emergency economic council meeting since March 19 and presenting unprecedented economic measure. "We need an active attitude to find opportunities amid the crisis," he said during a Cabinet meeting on April 14. "We have to proactively respond to a drastic realignment of the global supply chain," he stressed.
In this regard, the Moon Jae-in administration presented three goals for its innovation project – establishing digital infrastructure, fostering industries that do not require physical contact between people, and digitalizing social overhead capital (SOC) – by promoting its New Deal program through large investment and system improvement to create jobs and activate convergence of industries. The government plans to finalize details of the Korean New Deal by next month.
Moon's post-corona policy is expected to include plans to resume progress in the Korean peace process through inter-Korean cooperation.
The president, who has been seeking for a breakthrough in the Korean Peninsula peace process that stopped since the Pyongyang-Washington summit in February 2019, said his government would explore "realistic and practical ways" to reactivate inter-Korean cooperation on the second anniversary of the Panmunjeom Declaration on April 27. Moon said the COVID-19 crisis could provide the two Koreas with a new opportunity for bilateral partnerships. "For now, it's the most urgent and desperate task," he added.