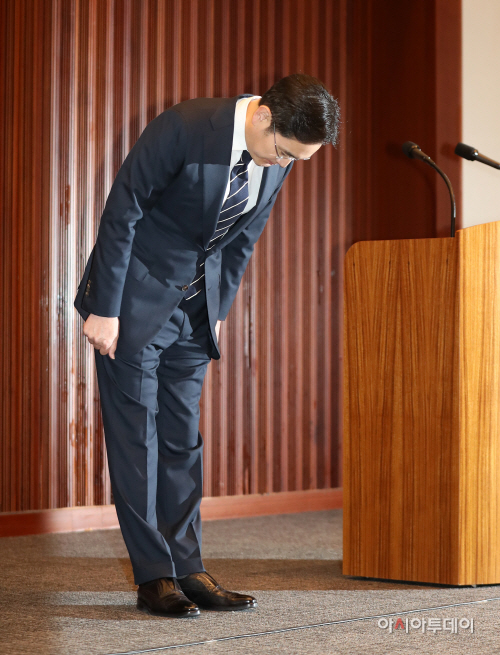 Samsung Electronics heir and Vice Chairman Lee Jae-yong bows during his press conference at the company's office building in Seocho-gu, Seoul on May 6, 2020./ Photographed by Jung Jae-hoon
By AsiaToday reporter Hwang Eui-joong
Samsung Electronics heir and Vice Chairman Lee Jae-yong made a public apology Wednesday over wrongdoings related to his succession and promised not to hand over managerial powers to his children. It is extremely rare for a Korean chaebol leader to publicly state that they will not pass the business group to their children.
The heir of South Korea's top conglomerate Samsung Group made the rare public apology during a press conference at the company's headquarters in Seoul at 3 pm.
"Samsung has become a world leader today thanks to the people's love and interest. However, we have failed to meet the expectations of the people and disappointed them," Lee said. "This is because the company has not strictly complied with laws and ethics."
"Samsung's technologies and products are praised as first-class but the public gaze towards Samsung still remains harsh. All of these came from our inadequacy, and it's my fault. All of the problems basically started from the succession issue. From now on, I will make sure that no controversy happens again regarding the succession issue. I will not give managerial rights to my children," he said.
"Samsung's labor-management culture did not respond to the changes of the times," Lee said. "I sincerely apologize to everyone who has been hurt by issues involving Samsung's labor union policy. From now on, I will make sure that Samsung no longer pursues no labor-union management. We will strictly company with labor related laws and will guarantee three fundamental labor rights."
Lee's apology came at the request of Samsung's compliance committee, which advised him in March to make a public apology about past wrongdoings and recommended that he address Samsung's previous 'no labor union' policy.
Lee was indicted in 2017 for giving bribes to a secret confidante of then President Park Geun-hye as he sought government backing for ensuring a smooth transition for him to succeed his father. Most of the bribery charges against him were dismissed however; the Supreme Court last year overturned the previous court ruling and sent it back to the Seoul High Court for a review. Attention is now drawn to the impact of Lee's apology on the court ruling.
Some critics view the apology as Samsung's tactic to induce the court to confirm the suspension of his five-year sentence currently in appeals. "Even after my retrial ends, the compliance committee will continue its operation as an independent body. I will make sure that the compliance is deeply rooted as a culture of Samsung," Lee said.