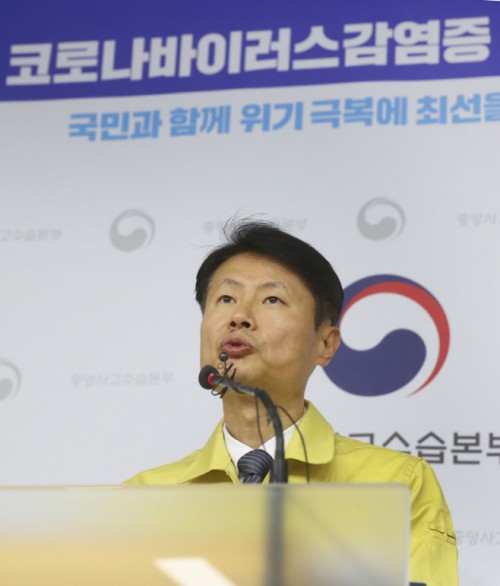 Vice Heath Minister Kim Gang-lip/ Source: The Ministry of Health and Welfare
By AsiaToday reporter Lee Sun-young
South Korea will shift its social distancing campaign to so-called "everyday life quarantine" on Wednesday. "Everyday life quarantine" will allow people to engage in a certain level of economic and social activities while maintaining distance to slow the spread of the novel coronavirus. As the number of new cases marked the lowest daily figure in 77 days since February 18 and the country reported zero local infections for two days in a row, experts say South Korea's COVID-19 crisis has now become stabilized.
The government is gathering opinions from experts regarding the adjustment of the alert level. However, it is expected to maintain its policies related to the COVID-19 outbreak even after the alert level against the virus is lowered.
South Korea reported three more COVID-19 cases Tuesday, according to the Korea Centers for Disease Control and Prevention (KCDC). The three new cases mark the lowest daily figure in 77 days since Feb. 18 when the country reported two new cases of infection. All the three cases are from other countries with no locally transmitted cases.
South Korea has now reported fewer than 20 new infection cases per day for 18 consecutive days. The number of new confirmed cases has stabilized since April 18 when the number of new cases dropped to 18.
Amid clear signs of a slowdown in the number of new infections, the government is now considering lowering the alert level in its four-tier system.
"We are still gathering opinions from related experts, rather than proceeding with detailed procedures regarding the adjustment of the alert level," Vice Heath Minister Kim Gang-lip said during a media briefing. "Even after the alert level is lowered to the third highest, the government's policies will not be abolished."
"The government's policies will depend on various conditions and situations," he said. "Whether to abolish the mask distribution system will be decided after officials monitor the supply and demand of situation comprehensively."
The government plans to reduce a total of 1,725 hospital beds earmarked for COVID-19 patients. "The decision was made after considering the stabilized situation as well as the situation of hospitals designated to treat COVID-19 patients," Kim said.
The health authorities will not let their guard down, saying there could be "quiet spread" of the virus in local communities with asymptomatic patients.
Meanwhile, the country's death toll came to 254, up two from Monday. So far, 9,283 patients have been released after making full recoveries, up 66 from a day earlier, according to the KCDC.