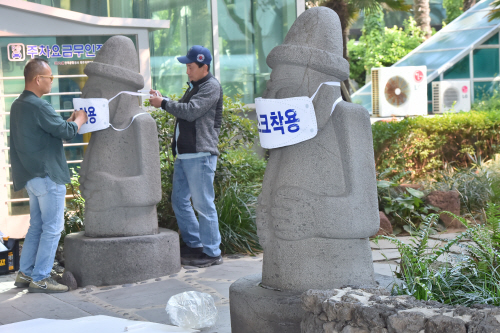 Jeju Island officials are putting a mask on dolhareunbang built at the entrance of Jeju International Airport on April 28, 2020./ Source: Yonhap
By AsiaToday reporters Woo Jong-woon
Starting on Buddha's Birthday on Thursday, followed by Labor Day the next day, South Koreans will be enjoying as long as a six-day holiday till Children's Day on May 5. Local health authorities remain vigilant ahead of the upcoming long holidays when a large number of people are expected to make short domestic trips. Some are concerned that the upcoming holidays could potentially lead to cluster infections.
"I'm trying to do something I've been putting off due to COVID-19 concerns. During the upcoming holidays, my fiancé and I decided to visit my parents in Gyeongnam," said Kim Doo-soo, a 30-year-old man that I met in Seoul Station on Tuesday when asked about the plans for the holiday season.
Most of the citizens that I met said they would spend the upcoming holidays recharging themselves. They looked thrilled to make trips and meet friends and families during the holidays.
"I'm still concerned about infection risk, but I decided to travel to Jeju Island thinking that I might have to wait until Chuseok if I miss this holiday," said Ms. Ha, a 33-year-old woman who is planning a 3-day trip to Jeju. "Staying at home for two months, I was depressed and wanted to see the sea."
The aviation and tourism industry, which was hit directly by the COVID-19 pandemic, is aiming for a special season. Major domestic airlines forecasted the demand for domestic trips will rapidly increase during the holiday season and increased the number of flights by 70-80 percent before the coronavirus crisis took place.
The same goes for the hotel industry. Many hotels in Jeju, Busan and Gangwon as well as capital Seoul are fully booked.
"It seems the reservation rate of accommodation has risen by 20-30 percent this holiday," an official from a hotel in Seoul said.
However, quarantine authorities and experts warn of a new wave of mass transmission of the new coronavirus. South Korea managed to flatten the virus curve, reducing hundreds of daily infections in February and March to around ten recently. However, the upcoming holidays are the remaining hurdle before transitioning to 'everyday life quarantine.'
"The COVID-19 outbreak is still ongoing. We should never let our guard down," said Yoon Tae-ho, a health ministry official. "We repeatedly ask the public to refrain from traveling around the country during the holiday."