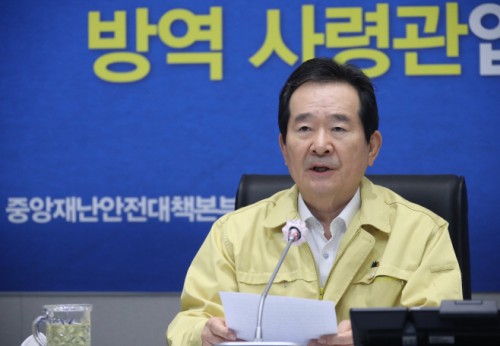 Prime Minister Chung Sye-kyun speaks at a meeting of the Central Disaster Management Headquarters on April 28, 2020./ Source: Yonhap News
AsiaToday reporter Hong Sun-mi
The government is considering to reopen schools in May. School openings is expected to begin gradually, starting with high school and middle school seniors who are preparing to enter higher educational institutes. The government will soon put forward a timetable to reopen schools.
During a meeting of the Central Disaster Management Headquarters on Monday, Prime Minister Chung Sye-kyun instructed the Education Ministry to come up with a timetable by early May for schools reopening in stages.
"I ask the education ministry to gather opinions while putting a priority on helping middle and high school seniors as they face important exams this year," Chung said.
"We cannot compromise children's safety for anything, but we cannot confine students to their homes until the end of the COVID-19 pandemic," the prime minister said.
"It is important to consider what educators, experts and parents think just like when we decided to resume classes online," he said. "The time to decide when to transition into everyday life quarantine is coming. There isn't much time, and we have to consider the time it takes for preparations."
Meanwhile, the ruling Democratic Party (DP) and the government held a meeting at the National Assembly, and decided to provide 'farm product pack' to 3.6 million elementary, middle and high school students from 8 cities and provinces, including Seoul and Gyeonggi province.