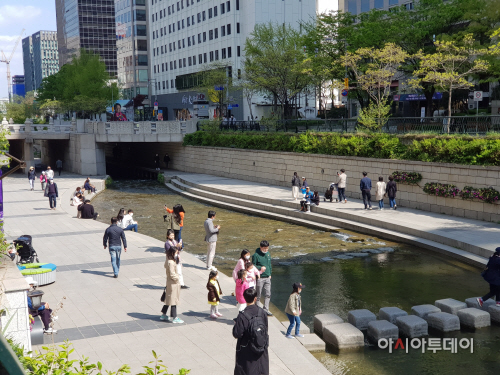 People flocked to popular tourist sites over the first weekend since the government lowered the intensity of its social distancing campaign amid signs coronavirus infections are on the decline./ Photographed by Kim Seo-kyung
AsiaToday reporter Kim Seo-kyung
People flocked to popular tourist sites over the first weekend since the government lowered the intensity of its social distancing campaign amid signs coronavirus infections are on the decline.
Most of the visitors did not let their guard down against the pandemic, wearing masks and keeping their distance from others while enjoying the warm spring days.
Ms. Yeo, a 40-year-old woman who visited Seoul's Cheonggyecheon stream with her family on Sunday, said, "I had to keep my children indoors because of the coronavirus and cold weather, driving them crazy. This is my family's first spring outing and we are lucky because the weather is perfect."
Gangnam and Seocho districts asked citizens to go in one direction when walking trails by Yangjaecheon.
Churches and Buddhist temples opened their doors after months of worshipping online. Some language proficiency tests are back on schedule.
A church in Seocho district held worship services at 11 a.m. on Sunday with people permitted to enter its building after taking precautionary measures in compliance with the government's guidelines, such as wearing masks, having their temperature taken and sanitizing their hands.
"I had to write down my personal information at the entrance," said Lee Hye-young, a 30-year-old member of the church. "I think these procedures are still necessary as there have been several disgraceful events in other churches."
The Buddhist community resumed its community services as well. Previously, the Jogye Order of Korean Buddhism put off the ritual to celebrate Buddha's birthday, originally scheduled to be held on April 30, to May 30 however it did not completely stop followers visiting the temple.
Followers visited the temple in central Seoul's Jongno for a Sunday ritual, but they were required to wear masks and get their temperature checked before going in.
Catholic churches resumed public Masses. On Thursday, the Seoul Archdiocese announced a regulation to prevent the spread of COVID-19 infections to 232 chapels across the capital city.
Some of popular English proficiency tests, such as TOEIC and TEPS, resumed Sunday.