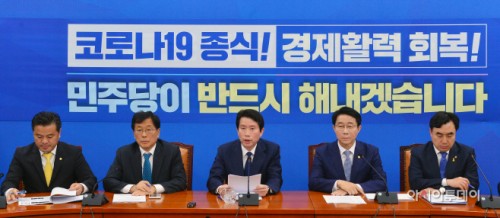 The ruling Democratic Party's (DP) floor leader Lee In-young asked for the United Future Party's (UFP) cooperation on the COVID-19 relief funds during a meeting at the National Assembly on April 21, noting the main opposition party also made similar pledges leading up to the general elections last week./ Photographed by Lee Byung-hwa
By AsiaToday reporter Lim Yoo-jin
The ruling party and the opposition are facing mounting criticism as they stay at an impasse in their negotiations on the approval of the government's second supplementary budget bill to finance its coronavirus relief program. Experts are concerned that South Korea may lose the right time to grant COVID-19 emergency relief funds.
It seems difficult to grant the emergency relief funds at the right time as the rival parties continue to be at odds over the targets, amount, timing and method of financing the funds. Assemblyman Park Jie-won of the Party for People's Livelihoods, who lost in the April 15 general election, stressed the urgency of the matter in a radio interview. "The government should boldly provide one million won to every citizen and four million won to every four-person household," he said. "It's about saving lives. In fact, the common people are living in complete hell."
Yun Kun-young, who won Seoul's Guro-B district, also urged the rival parties to consider urgency as the top priority, saying, "Many people want a quickly decision from the government. When there is fire, the first thing you need to do is putting out fire. Determining the source of the water is the next thing to do."
However, the rival parties have failed to decide when to review the approval of the extra budget bill for the payment of the emergency relief fund due to their difference in views. Experts are concerned that the payments could be given in June if the extra budget bill is not approved in the provisional session of the National Assembly in May. The purpose of the emergency relief fund aid is to stabilize the livelihoods of people who are struggling to cope with the economic impact of the outbreak and boost consumption. But what is the use of granting all that money if it is given belatedly?
Experts suggest the government leave minor issues to one side and immediately provide the emergency relief fund considering the urgency of the situation. They point out that the rival parties should avoid a political battle in the urgent situation to guarantee the livelihood of the people suffering from the COVID-19 crisis.
"We are running out of time. The government needs to provide the relief fund to hard-hit areas including Daegu and those who have been hit hard by the COVID-19 outbreak as soon as possible," said Kim Tae-il, a professor at Yeungnam University.
"If the rival parties continue to spend time discussing the issue and delay the payments, the emergency relief fund itself will become meaningless," said Choi Chang-ryul, a politics professor at Yongin University.
"The Democratic Party and the United Future Party had pledged to provide the relief funds. So they must keep their pledge," said Choi Jin-bong, a media communications professor at Sungkonghoe University.