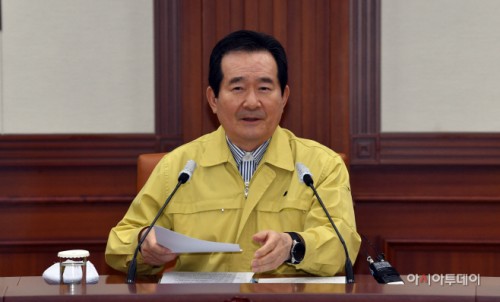 Prime Minister Chung Sye-kyun
AsiaToday reporter Hong Sun-mi
The government has decided to keep its social distancing campaign in place through May 5.
However, the government will lift a strongly recommended ban on the operation of four kinds of facilities that tend to be crowded including religious facilities while allowing recruitment exams on condition of following quarantine rules. Going to school would be possible in a gradual manner after considering an overall situation.
The plan was announced by Prime Minister Chung Sye-kyun at a government meeting held on Sunday to tackle the coronavirus pandemic.
"The government will maintain the social distancing drive against the coronavirus until May 5, but it will ease the guidelines for some cases," Chung said. "In terms of quarantine, it is safest to continue high-intensity social distancing, but it is not easy in reality. We have to find a middle ground."
"The government will maintain its administrative order in place for four kinds of concentrated facilities including religious facilities, but will remove its strong recommendation of closing the facilities," the prime minister said. "Essential qualification tests and recruitment exams will be conducted on condition of thoroughly following quarantine rules."
On reopening of schools, the prime minister said the government will consider allowing schools to gradually reopen, depending on the overall circumstances, calling on the education ministry to carefully review the matter.
"If we can keep up the current level of stable containment, we will go with 'everyday distancing' where we go back to our daily routines, but with caution, from May 6," he said.

"We have achieved some degree of outcome of intense social distancing. The number of new infection cases decreased to eight, and the number of cases with unknown origins decreased to less than 5 percent," Chung said.
"The result is thanks to all the people who kept the rules of quarantine through high solidarity and participation," he said.
"However, we are not at the stage where we can feel relieved," he said.