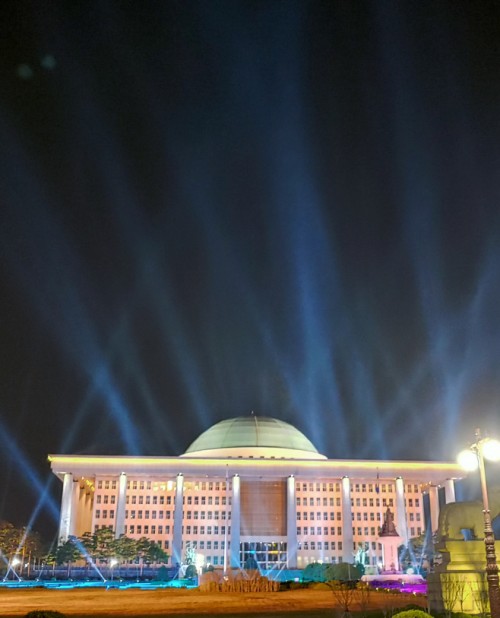 The National Assembly building/ Source: Yonhap News
"We are concerned about the 21st National Assembly's potential for totalitarian movements. It could pass legislative bills without support from other parties, so it should never lose its sense of balance."
The ruling Democratic Party (DP) clinched a landslide victory in Wednesday's general election. The DP alone obtained 180 out of the 300 seats, winning a supermajority in the 21st National Assembly. This means the ruling bloc is now able to fast-track the passage of bills without support from other parties, incapacitating the National Assembly Advancement Act.
In fact, it is now capable of "doing everything" in parliament except constitutional revision, which requires at least 200 votes on the floor. Experts say the 21st National Assembly needs to achieve a balance and be kept in check based on democratic principles through dialogue and cooperation.
In particular, they say the ruling party's humble and competent parliamentary power is important in response to the demands of the people.
Political commentator Lee Jong-hoon expressed concerns in a phone interview with AsiaToday on Thursday about the next National Assembly's potential dogmatism and stressed the need of sense of balance by the legislative body. "Since the number of parties to keep the ruling party in check has reduced, the process of presenting alternatives with a sense of criticism within the ruling party has become important," he said.
"With 180 seats, the ruling party can do everything except constitutional revision," said Shin Yul, a professor at Myongji University. "Now the ruling party has a heavy responsibility. It should keep in mind that it has to take full responsibility for the management of state affairs."
"A super ruling party with 180 seats has turned up and key figures from Cheong Wa Dae entered the National Assembly. The present power and the future power are likely to be in conflict," said Kim Hyung-joon, a professor at Myongji University. "The DP could fall under the winner's curse. It must remember the basic principle that the National Assembly needs to hold the government in check effectively in order to make a healthy government."
Some experts called for fundamental change of Korean politics of a super majority. "There is not enough space for minor parties," said prof. Kim. "If the Republic of Korea is to be transformed into a new political paradigm, the ruling and the opposition parties need to revise the constitution to create a way to achieve harmony between the electoral system and the power structure."
Experts also urged the 21st National Assembly to work hard to overcome the coronavirus crisis and take care of the people's livelihood rather than having political conflicts.
"We ask the National Assembly to help companies overcome the current crisis and create an environment that can create jobs and bring solid economic development," the Korea Enterprises Federation (KEF) said.