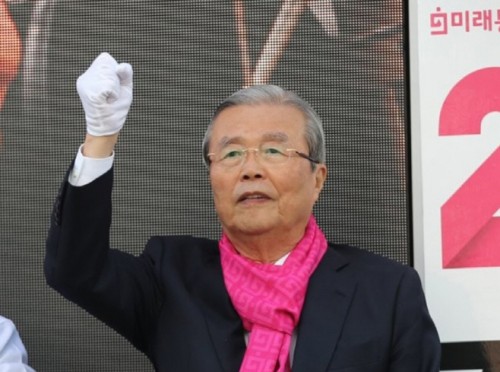 Kim Jong-in, head of the United Future Party's election committee, raises his hand to voters in Seoul on April 14, 2020./ Source: Yonhap
By AsiaToday reporter Lim Yoo-jin
The main opposition United Future Party's (UFP) election committee chief Kim Jong-in urged citizens in their 30s and 40s who cried for not being able to give their children privileges to cast their votes, on the day before the April 15 general elections.
At a press conference, Kim urged people to vote with patriotism to save the country, highlighting the need to pass judgment on the Moon Jae-in administration in the upcoming election. His remark was an apparent reminder of the corruption scandal surrounding former Justice Minister Cho Kuk and his family.
"Young people, who get fired from a part time job and fail to pay monthly rent, should never give up and go to cast their ballots," he said. "I'm certain that seniors will also wear a mask and cast their ballots," he added. "I know that you are not satisfied with the UFP. But if you give us a chance at the upcoming election, I will transform this party into a classy and talented one that can take the responsibility of the next government."
"Those so-called 'tandori' who joined the National Assembly in the general election in 2004 still dominate the country's politics. If a group of 'kodori' is elected amid the coronavirus outbreak, the National Assembly will be infected and this nation will perish," He said. "Tandori" refers to those first-term lawmakers who were elected because they were against the impeachment of former President Roh Moo-hyun.
"As the general election is approaching, the government has allowed conducting coronavirus test only on those who are diagnosed with pneumonia using X-rays. Doctors across the nation send me letters saying that the number of confirmed patients will explode after the election," he said.
Kim claimed that the government failed in its early coronavirus response, after intervening its decision to impose an entry ban on foreign travelers from China in a bid to arrange for Chinese President Xi Jinping's visit to Seoul. "I want to ask President Moon Jae-in one thing. Have you ever been true to the people for a moment? To be honest or talented, you need to have at least one thing," he said.