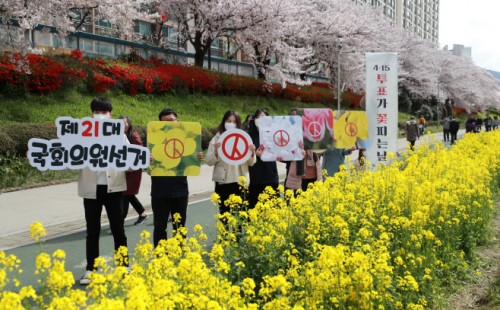 Officials of the Busan Election Committee are campaigning at Oncheoncheon Citizen Park in Busan to encourage people to vote on March 29, 2020./ Source: Yonhap News
By AsiaToday reporter Lim Yoo-jin
"The Together Democratic Party is the only coalition party. I've read it incorrectly. I'll do it again," said Lee Hae-chan, leader of the ruling Democratic Party. "In the upcoming general election, the Liberty (Korea Party)… the United Future Party will win," said the main opposition UFP chairman Hwang Kyo-ahn.
The April 15 general election is only 16 days away. However, even the party heads are confused with the name of their party. Considering that early voting is set for April 10-11, there are 10 days left until the election. People criticize that party leaders and even candidates are confused with their party names. Some active supporters of the main opposition party created somewhat ridiculous catch phrase, "yi-pan-sa-pan," the Korean term literally meaning 'all or nothing.' The words "yi" and "sa" also have the meaning of number "two" and "four" in Korean, encouraging UFP supporters to choose "the 2nd candidate and the 4th party for proportional representative" placed on the ballot paper.
The COVID-19 outbreak has halted political parties from conducting conventional election campaigning, leaving voters without sufficient information on candidates' pledges and commitment. Besides, the rapid establishment of new parties, mostly targeting proportional representation seats, is confusing voters ahead of the election. Some even suggest that the ballot paper should clearly indicate what the parties stand for by adding brackets. For instance, the United Future Party (Liberty Korea Party + New Conservative Party + Bareunmirae Party), Party for People's Livelihoods (Bareunmirae Party + Party for Democracy and Peace), Future Korea Party (the UFP's satellite party), Together Citizens' Party (the DP's satellite party), and so on.
The first-ever 'blind general election' has started its history with an institutional blind spot where the two biggest parties – the Democratic Party and the United Future Party – were forced to launch a satellite party for proportional representation seats, irrespective of the original purpose of introducing a mixed-member proportional representation system. It all began with the introduction of the system after the 4+1 election coalition among the four minor parties and the ruling DP and the main opposition UFP failed to reach an agreement over the electoral system.
There are as many as 35 political parties to be placed on the ballots for proportional representation seats in the 21st general election. The voting paper is 48.1 centimeter long. There are so many names and they are even very similar, which will make it all the more confusing for voters when looking at the ballot sheet at the voting booths. The parties include Party for People's Livelihoods, Future Korea Party, Together Citizens' Party, Justice Party, Our Republican Party, Minjung Party, Korea Economic Party, People Party, Pro-Park New Party, Open Democrats, New National Participation Party, Christian Liberal Unification Party, Labor Party, Green Party Korea, Our Future, Saenuri Party, and more.