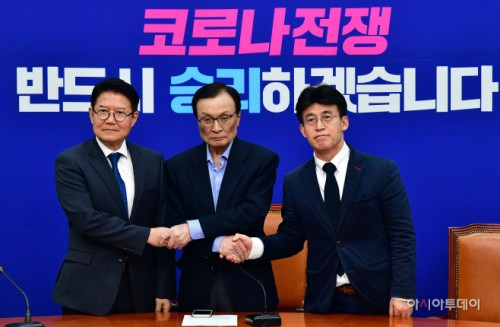 Democratic Party chairman Lee Hae-chan (center) shakes hands with co-leaders of the ruling party's satellite party Together Citizens Party, Woo Hee-jong (left) and Choi Bae-geun at the National Assembly on March 25, 2020./ Photographed by Lee Byung-hwa
By AsiaToday reporter Lim Yoo-jin
With around 20 days before the April 15 general elections, the ruling Democratic Party (DP) and the main opposition United Future Party (UFP) are fiercely competing to raise their printing order in which parties will appear on the ballot paper. The two biggest parties are plainly playing tricks, such as self-expelling and lending lawmakers, to occupy top spots on the ballot paper until Friday, the deadline for registration of candidates.
The ruling DP dispatched Wednesday seven lawmakers, including Lee Jong-gul, Shin Chang-hyun, Lee Gyu-hee, Lee Hoon, Shim Gi-joon, Jae Yoon-gyung, and Jung Eun-hye, to its satellite party, the Together Citizens Party (TCP). As the ruling party had previously condemned the UFP harshly for lending its lawmakers, its similar move is drawing severe criticism. The TCP, which now has 7 incumbent lawmakers, is expected to place its name in the fourth spot following the Party for People's Livelihoods (PPL) with 21 seats, the Future Korea Party (FKP) with 10 seats, and the Justice Party with 6 seats. The TCP has one more parliamentary seat than the Justice Party, however its printing order on the ballot is expected to be behind the minor progressive party since it is not preferentially given nationally unified marks.
The UFP's sister party FKP is garnering attention as it seeks to take the number 1 spot on the ballot paper. Its mother party plans to dispatch nearly 10 additional lawmakers to the FKP on Friday. If it happens as the FKP chairman Won Yoo-chul has previously announced, the FKP is highly likely to win the status of a bargaining organization and win the No. 1 position on the ballot paper, beating the minor opposition PPL.
Many minor parties are using tricks to raise the printing order of parties on the ballot. In determining the printing order of political parties, a political party holding seats in the National Assembly as of the closing day of candidate registration shall be first. The printing order among political parties holding no seats in the National Assembly shall follow the Korean alphabetical order of the names of such political parties. As a result, many minor parties' names begin with "Gaja" since "ga" is the first letter of the Korean alphabet. Many points out that such behavior create confusion among voters in elections and even insults Korean alphabet Hangeul.
"The ugly side of Korean politics exploiting the mixed member proportional system is revealed," said Lee Jong-bae, the head of the Association to Establish Correct Constitutionalism, in a phone interview with AsiaToday. "Although only few days are left before the election, we will review either the constitutional petition or the request for adjudication on the constitutionality of an Act if there is any possibility of unconstitutionality."