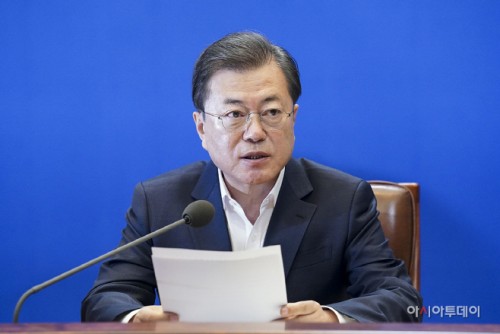 President Moon Jae-in chairs a second emergency economic meeting at the presidential Cheong Wa Dae on March 24, 2020./ Source: Cheong Wa Dae
By AsiaToday reporter Lee Seok-jong
President Moon Jae-in unveiled a 100-trillion-won emergency rescue package for businesses affected by the COVID-19 pandemic to prevent them from going bankrupt, during the second session of the Emergency Economic Council on Tuesday.
The amount was double that introduced at the previous session last week to assist small and medium-sized enterprises (SMEs) and small business owners. The expanded package would cover conglomerates and other major companies as well.
The plan reflects the government's strong determination to minimize the economic damage arising from the COVID-19 pandemic through the maximum level of support that state-run financial institutions can handle in the short term.
"It is an emergency funding to support not only small businesses and SMEs but also conglomerates and other major companies," said Moon Jae-in. "It's a preemptive measure that will not only protect our companies, but also keep jobs for South Korean people."
Under the expanded package, the government will provide 29.1 trillion won in loans for SMEs and mid-market companies, and expand guarantees to 7.9 trillion won. Assistance for loan from state-run lenders worth 21.2 trillion won will be added to the package.
The plan is intended to prevent companies from going bankrupt due to temporary liquidity shortage. It will be applied to conglomerates as well, if necessary.
A 20 trillion won of the bond market stabilization fund will be created for the purchase of corporate bonds and commercial papers. It was the double the size prepared initially.
For companies facing a temporary liquidity crisis, 17.8 trillion won will be earmarked separately to support them by purchasing the primary collateralized bond obligations (P-CBO) and other corporate bonds.
A securities market stabilization fund worth 10.7 trillion won will be launched as a buffer against capital outflows. It is a 20-fold increase from the corresponding fund formed during the global financial crisis in 2008.
During the meeting, Moon also called for urgent steps to significantly expand employment maintenance subsidy and mitigate state insurance and public utility service fee burdens to stabilize the labor market given that distressed companies may lead to the rapid worsening of employment.
The president ordered that all measures settled be implemented immediately next month.
The upcoming third emergency economic meeting, which will be chaired by the president next week, will draw conclusions on effective livelihood support measures, such as disaster-related basic income.