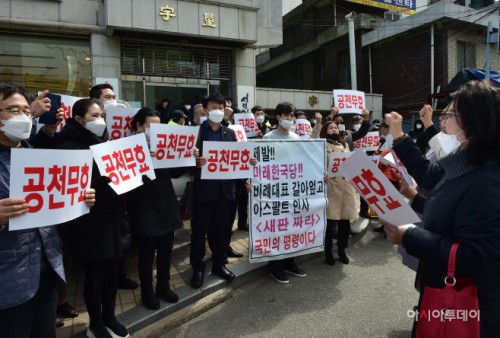 Supporters of the main opposition United Future Party (UFP) protest against the results of the nomination for the April 15 general election of the Future Korea Party (FKP), a satellite party of the UFP, on March 19, 2020./ Photographed by Lee Byung-hwa
By AsiaToday reporters Lim Yoo-jin & Kim Yeon-ji
The main opposition United Future Party (UFP) has gone back to reviewing the selection of candidates for proportional representation (PR) seats due to nomination feud with its satellite party Future Korea Party (FKP). Amid resignation of FKP chairman Han Sun-kyo, UFP chairman Hwang Kyo-ahn now has to decide whether to rebuild FKP's's nomination commission or create a new proportional representation party.
It is not difficult for the main opposition party to create a new sister party as it has registered a preparatory committee for the establishment of a political party entitled 'Free Liberty Party' to the National Election Commission (NEC). It can establish a nomination committee to nominate its recruited candidates. The party believes it is physically possible as long as it confirms a list of candidates by March 27th, the deadline for registration for the general election.
The UFP's central committee issued a statement on the FKP's nomination and urged immediate disbandment of the FKP's nomination commission that made "improper nominations" and reconstruction of a nomination commission to unite conservatives. "If the FKP's betrayal continues, we will create a new proportional sister party which will bring victory in the upcoming general election," the committee said. "We urge the FKP, who betrayed the UFP members and the will of the people, to invalidate the complete list of proportional representatives and review it again."
In a phone interview with AsiaToday, a key source from the UFP said, "It is not impossible to create a new sister party because it doesn't take too long to create one. Obviously, if the party does not take an active approach for change, it is likely to ruin the general elections. So we are reviewing things while keeping many options open."
"Considering the meaning and importance of the upcoming election, I cannot ignore this issue. The party needs to take a strong decision," Hwang said at a party meeting on Thursday. "I will correct the problem as soon as possible and return to the path towards victory," he added.
The FKP supreme council put the list of candidates, recommended by the FKP nomination commission, to the vote and rejected it with 13 votes in favor and 47 against. As Hwang publicly criticized the FKP's nomination list, many electors voted against the list.
In addition, the FKP members even filed for an injunction to Seoul Southern District Court to nullify the procedure for candidate recommendation for proportional representatives. "Justice has collapsed with blinded nominations. The people of the country and PR applicants say they have been betrayed."
Meanwhile, FKP chairman Han Sun-kyo abruptly announced that he will resign from his post after the list of candidates for PR seats has been voted down. "Trivial people have deterred my vision to serve the party and the nation genuinely," Han said.