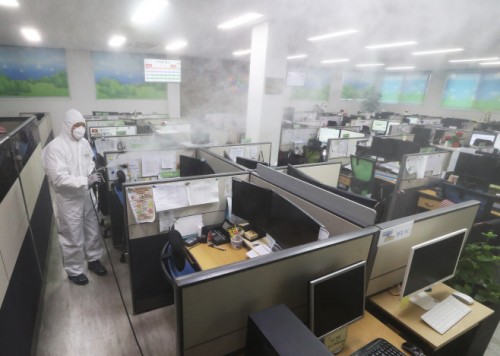 A health worker disinfects an office room at a call center in Suwon, Gyeonggi Province, on March 11, 2020./ Source: Yonhap News
By AsiaToday reporter Joo Sung-sik
South Korea reported fewer than 120 Covid-19 cases Thursday after a spike the day before.
A total of 114 cases were confirmed Wednesday, the Korea Centers for Disease Control and Prevention (KCDC) said, taking the country's total to 7,869.
Of the new cases, 73 and 8 were from the city of Daegu and neighboring North Gyeongsang, the two epicenters of the virus outbreak here. The number of confirmed cases in Seoul decreased to 19 from 52 on Tuesday which was mainly linked to a call center in Guro Ward. New confirmed cases were also found in Sejong (5 cases), Gyeonggi (3), Daejeon (2), South Chungcheong (2), Busan (1) and South Gyeongsang (1).
Despite a relative decline in new cases, the government has set up guidelines to strengthen quarantine measures on workplaces and facilities to prevent spread of the virus, in a meeting head by Prime Minister Chung Sye-kyun. In lockstep with the World Health Organization's coronavirus pandemic declaration, the government plans to intensify its quarantine strategy centering on maintaining "social distancing" from other people.
Under the guidelines, business owners are recommended to designate managers dedicated to quarantine activities and set up an emergency contact list with local health authorities in order to respond immediately in the event of suspected coronavirus cases.
In particular, those who operate their businesses in enclosed spaces, that are vulnerable to group transmission of the virus, should actively guide their employees to work at home if they have fever or respiratory symptoms, without giving them any disadvantages.
For those who have to work at offices, the company should maintain the distance between seats by at least a meter. Multi-use spaces and multi-functional activity spaces should be closed temporarily while unnecessary events, meetings and business trips are recommended to be postponed or canceled.
However, quarantine authorities say they will not change ongoing quarantine measures following the WHO's pandemic declaration. "There is no change in the evaluation of WHO and domestic containment measures. But we will further tighten immigration procedures if the number of imported virus cases rises," said KCDC Deputy Director Kwon Jun-wook.
Meanwhile, South Korea released a total of 333 fully recovered patients from hospitals as of Wednesday, up 45 from a day earlier. Six more people died, with the toll rising to 66.