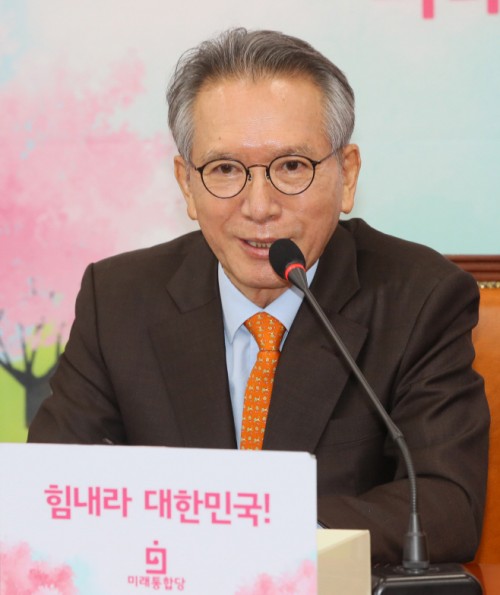 The head of the UFP candidate nomination committee Kim Hyong-o reveals his thoughts about nomination screening at the National Assembly on March 11, 2020./ Source: Yonhap News
By AsiaToday reporter Woo Sung-min
Former presidential candidate Hong Joon-pyo has sent a final notice to the leadership of the main opposition United Future Party (UFP) to change the party's nomination after it blocked him from running in the upcoming April 15 general elections, saying, "I will make my final position clear Thursday if the Supreme Council does not reverse its decision about its nomination."
In particular, Hong poured out raw criticism at the UFP's candidate nomination committee head, Kim Hong-o, over controversial nomination. Hong, who formerly chaired the conservative party's predecessor Liberty Korea Party, is reportedly considering leaving the party to create a independent coalition in Gyeongsang-do region, putting the UFP on high alert.
Whenever there was a nomination controversy in Daegu and North Gyeongsang, popularly known as the TK region, as well as Busan and South Gyeongsang, often referred to as the PK region, traditionally the home turf of conservatives, each of the general elections had an adverse effect on Seoul and the metropolitan areas. In the 20th general election that was held on April 13, 2016, there were 13 electoral districts where the gap between the first- and second-place runners was less than 1,000 votes.
Experts believe the UFP leadership should seek to settle the nomination controversies, including the one related to Kim Hyong-o's nomination of his close aides, in order to avoid a blow in the upcoming election.
"In Gyeongsang region, there is a huge controversy regarding Kim Hyong-o's candidate nomination," a political critic said in a phone interview with AsiaToday on Wednesday. "Former chairman Hong and those who have been dropped from the nomination process are likely to form an independent coalition, which could be a critical blow to the UFP."
"The nomination committee did not offer them a chance to run in a primary and cut them off, giving them a path to run independent," the critic said. "In the end, UFP Chairman Hwang Kyo-ahn should make a final decision and correct the problem."
Above all, there are concerns that UFP will be hit significantly if the controversy in relation to Kim Hyong-o's nomination of his close aides is not settled immediately. Such controversy is even fiercer in certain regions, such as Gangnam, TK and PK regions, the traditional conservative stronghold.
Nominees Choi Hong, former Macquarie Investment Management Korea president, Bae Joon-young, chief director of Incheon Economic Institute, and Hwangbo Seung-hee, a former member of Busan city council, are known as "Kim Hyung-o kids" as they have worked with him closely.