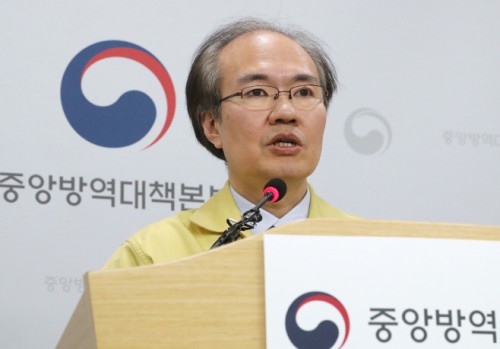 Kwon Jun-wook from the Korea Centers for Disease Control and Prevention (KCDC) speaks at a press conference in Cheongju, North Chungcheong Province, on March 3, 2020./ Source: Yonhap
By AsiaToday reporters Joo Sung-sik & Kim In-hee
South Korean health authorities are on guard against potential cluster infections as an alarming cluster of COVID-19 infections is emerging in metropolitan area despite a slowdown in the new cases in the southeastern city of Daegu and its surrounding North Gyeongsang. The government plans to prioritize the stabilization of the situation in Daegu and North Gyeongsang while focusing its quarantine efforts on halting the spread of the virus to other regions.
South Korea reported 131 new cases on Tuesday, bringing the nation's total infections to 7,513, according to the Korea Centers for Disease Control and Prevention (KCDC). Monday's additional cases were far below the daily increases of 500 or more last week and marked the slowest one-day rise in confirmed cases in two weeks.
Of the 131 new cases, 92 are in Daegu and 10 are in North Gyeongsang. Although the number of confirmed patients was still high, the new cases in the two regions showed signs of slowing down. The problem is that several cluster infections are emerging in the metropolitan area that is home to 25 million, or nearly half of the country's population.
A call center in southwestern Seoul emerged as the biggest infection cluster in the capital city as at least 50 people tested positive for the virus, according to the KCDC. Of the 50 confirmed patients, 46 of them were found to have worked on the 11th floor of the call center. Health authorities are conducting an epidemiologic investigation and medical testing on all 207 workers who worked on the same floor and are planning to check other employees at the call center who worked on the seventh to ninth floors of the same building.
"There was a new mass-infection case from the call center in Seoul's Guro Ward and other cluster cases in provincial governments," KCDC Deputy Director Kwon Jun-wook said. "The total number of new confirmed cases in on a downturn but there are concerns over such mass infection cases."
"If such a mass infection case occurs in Seoul and surrounding Gyeonggi Province, where millions of people live, it could become an 'amplifying group' like Shincheonji. We need a countermeasure on this," Kwon said.
In a meeting with Incheon, Gyeonggi and Guro officials, Seoul Mayor Park Won-soon announced its willingness to actively cooperate with other provincial officials to deal with the call center infection case. "It is the biggest infection cluster in the metropolitan area. Since a large chunk of workers at the call center are residents in the city of Inchon and surrounding Gyeonggi, we must cooperate fully beyond administrative jurisdiction," Park said.
South Korea had released a total of 247 fully recovered novel coronavirus patients form hospitals as of Monday, up 81 from a day earlier. So far, 54 people have died from the virus in the country.