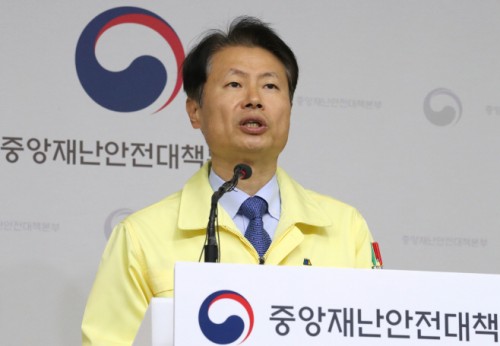 Vice Health Minister Kim Gang-lip speaks during a press daily briefing at the government complex in Sejong, central South Korea, on March 9, 2020, about the spread of the new coronavirus./ Source: Yonhap News
By AsiaToday reporter Joo Sung-sik
Nearly 7,500 coronavirus cases have been confirmed through the country amid signs of infection slowdown.
South Korea reported 96 new coronavirus cases between midnight Sunday and 4 p.m. Monday, bringing the nation's total number of infections to 7,478, the country's central disaster management headquarters said.
The 96 new cases are being classified to be included in an official update. Of the 248 new cases, which were detected on Sunday, 190 are in Daegu and 26 are in North Gyeongsang. The total number of infections in Daegu and North Gyeongsang stood at 5,571 and 1,107, respectively.
Some are expressing optimism about the containment of the new coronavirus as the pace of new infections trended lower, however the government remains cautious.
"It is true that the spread of COVID-19 is showing signs of a slowdown, but the number of sporadic cluster cases outside Daegu and North Gyeongsang is growing," said Vice Health Minister Kim Gang-lip in a daily briefing.
More cluster cases are emerging abroad, with Italy and Iran reporting jump in COVID-19 cases, placing health authorities on full alert. Outside of South Korea, approximately 101,000 cases have been confirmed in 96 countries with nearly 3,700 deaths, according to the central disaster management headquarters.
In particular, the course of the outbreak has shifted, with the rate of new infections slowing down in China and picking up in other countries, including Italy and Iran. In response, the South Korean government will continue to step up efforts to curb further local transmission of the virus, while containing the importation of infections.
However, the government will not enforce an entry ban and quarantine measures for visitors from certain countries based on the current occurrence of confirmed cases.
"Assessing the global situation, we believe measures should be taken to block the spread of local transmissions and curb further inflows from overseas," Kim said. "In preparation for pandemic, responsiveness and cooperation is important in terms of early detecting patients and preparing for severely-ill patients."
Meanwhile, South Korea reported 53 deaths and released 166 fully recovered patients from hospitals as of Monday.