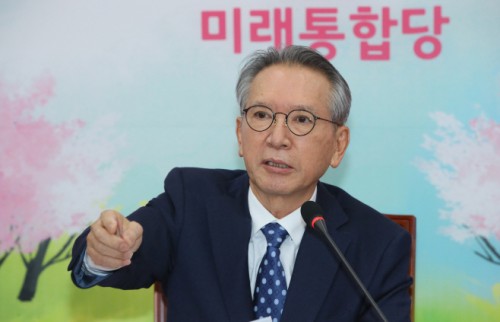 The head of the UFP candidate nomination committee Kim Hyong-o announces the committee's nomination decision on March 5, 2020./ Source: Yonhap
By AsiaToday reporters Lim Yoo-jin & Woo Sung-min
The main opposition United Future Party (UFP) has eliminated several heavyweights from Daegu and North Gyeongsang Province, popularly known as the TK region, as well as Busan and South Gyeongsang, often referred to as the PK region. Instead, the main opposition party nominated fresh faces who are either directly or indirectly related to the head of the UFP candidate nomination committee Kim Hyong-o, leading to disputes regarding the fairness of the nomination.
The ruling Democratic Party (DP) also sparked criticism for filling most of its candidate list with pro-Moon figures while cutting off several moderate, non-Moon Jae-in faction figures. 26 out of 49 candidates from the presidential office Cheong Wa Dae of the Moon Jae-in administration clinched the DP's nomination.
The situation is getting more complicated as both rival parties are going through internal complications with the nomination controversy nearly 30 days before the April general elections.
The UFP candidate nomination committee eliminated Kwak Dae-hoon and Choung Tae-ok in Daegu. In North Gyeongsang, third-term lawmaker Kim Jae-won, who serves as the party's policy chief, was cut along with four others, including Kang Seok-ho, Kim Seok-ki, Park Myung-jae and Baek Seung-joo. In PK region, former National Assembly deputy speaker Lee Ju-young, the party's vice floor leader Kim Han-pyo, four-term lawmaker Kim Jae-kyung, and Kim Sung-tae have been dropped.
Many point out that several fresh candidates who won their bids to represent the UFP in the upcoming elections are insufficiently competitive. Besides, most of them are related to the head of the UFP candidate nomination committee directly and indirectly, casting doubts on the nomination criteria.
For instance, nominees Hwangbo Seung-hee, a former member of Busan city council; Choi Hong, former Macquarie Investment Management Korea president; and Bae Joon-young, chief director of Incheon Economic Institute, are known as "Kim Hyung-o kids" as they have worked with him as his secretary, aide, and press secretary.
"From the people's perspective, it would have been better to nominate any other ordinary old men," political commentator Park Sang-byung told AsiaToday in a phone interview on Sunday. "It would have been better if Kim had eliminated his close aides."
Within and outside the party, many criticize that Kim's reckless cutoff obscured the value of innovative nomination. The nomination committee pressed lawmakers Kim Gwang-lim, Choi Kyo-il and Jang Seok-chun to drop out of the race while making a singular recommendation for corresponding regions without holding a competition.
"In North Gyeongsang, a newly-elected member (referring to lawmaker Baek Seung-joo) has been cut off and the other (referring to lawmaker Jang Seok-chun) announced he would drop out of the race. This was due to intense pressure from the committee," said lawmaker Kang Seok-ho.
Many speculate that the committee pressed incumbent lawmakers, who have contributed to their corresponding regions for a long time, to drop out of the race and nominate its preferred candidates without a fair competition.
"There is no specific principle in nominating a candidate. The committee is brutally cutting off so many lawmakers especially in Yeongnam," a lawmaker in South Gyeongsang told AsiaToday in a phone interview. "If multiple conservative candidates run for a race in the PK region, the DP is highly likely to win. I don't know why the committee cannot read such public sentiments."