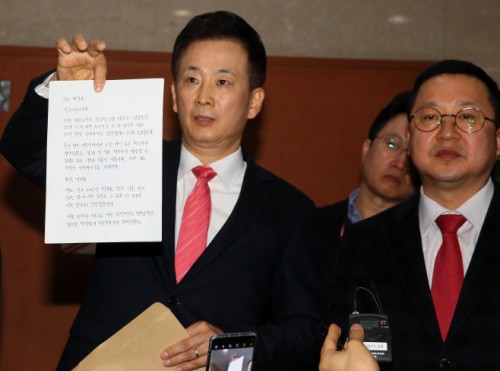 Former President Park Geun-hye's lawyer, Yoo Young-ha, holds up her handwritten letter from prison at the National Assembly in Seoul on March 4, 2020./ Source: Yonhap News
By AsiaToday reporter Lim Yoo-jin
Former President Park Geun-hye has sent a letter from prison calling for the country's conservatives to unite ahead of the April 15 general elections. The impeached ex-president, who had been silent in jail, has virtually jumped into politics. Her letter is expected to be a double-edged sword in the upcoming election.
First of all, Park's message is expected to play a positive factor to stop the division of the country's conservative bloc, in which many of them have united for the United Future Party (UFP) while a number of minor factions, including some of pro-Park Geun-hye forces and Taegeuki troops, remain separate. However, Park's intervention could have a negative effect on the upcoming general elections by bringing unity in the country's progressive bloc as well.
The national crisis caused by the Covid-19 outbreak could turn into a confrontation between the former and present regimes. As a result, the upcoming elections could bring a rapid change. However, it remains to be seen whether Park's letter would influence bring positive impact or not since she is highly symbolic in the conservative bloc.
In the handwritten letter released by her lawyer, Park called on everyone waiving the national flag Taegeukgi to join forces as one, centered on the existing giant opposition party. By "giant opposition," Park is thought to be referring to the main opposition UFP, which has roots in Park's Saenuri Party.
"Your patriotism can right the country. I will be with you united as one," Park added, apparently seeking to help the opposition bloc form a united front against the liberal Moon Jae-in administration and the ruling Democratic Party (DP) in the upcoming election.
The ruling DP and progressive minor opposition parties have criticized the ousted former president for sending the letter, claiming that Park is denying the people's decision to impeach her. Je Youn-kyung, a spokesperson for the DP's election preparation committee, called Park's letter a "declaration" that the main opposition UFP is a party of her own and that she will actively intervene in the upcoming elections.
Kim Jeong-hyeon, a spokesman of the Public Livelihood Party, said Park's message is a "highly-calculated political maneuver to gather support from her followers and influence the elections." Justice Party spokesperson Oh Hyeon-joo said that Park's move shows that the UFP is no different from its predecessor, the Saenuri Party.
Meanwhile, the UFP welcomed Park's prison message and vowed to reward the people with victory in the general elections.