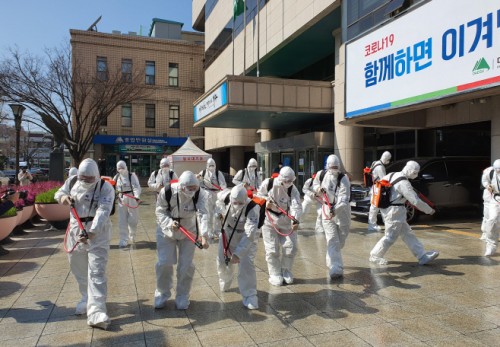 South Korean soldiers wearing protective gear spray disinfection as part of preventive measures against the spread of the Covid-19, at city hall in Daegu on March 2, 2020./ Source: Yonhap News
By AsiaToday reporters Joo Sung-sik & Kim Beom-joo
As South Korea saw the number of the novel coronavirus (also known as Covid-19) cases surpass 4,000 on Monday, the government decided to classify confirmed patients according to severity of their symptoms in order to revise its responding treatment system. It also opened an isolation facility in the worst-hit city of Daegu to treat coronavirus patients with mild symptoms.
The central quarantine headquarters under the Korea Centers for Disease Control and Prevention (KCDC) said Monday that 123 additional cases were reported as of 4 p.m. Monday, taking the country's total infections to 4,335.
The total number of cases in Daegu and its neighboring North Gyeongsang Province stood at 3,081 and 624, respectively, accounting to 88 percent. Aside from Daegu and North Gyeongsang, the cases in Gyeonggi, Seoul and Busan rose to 92, 91, and 88, respectively.
Four more fatalities were reported, raising the country's death toll to 26. All the latest deaths came from Daegu.
The central quarantine headquarters began operating an isolation facility in Daegu by utilizing National Education Training Institute with the cooperation of the Ministry of Education. It is the government's first move following its 7th revision of government guidelines for Covid-19 response. The facility is aimed at frequently monitoring health conditions of patients with mild or moderate symptoms who do not require hospitalization. Medical staff will regularly monitor health condition of patients in the facility.
Under the revised guidelines, patient control team composed of medical staff will classify patients into four stages according to the severity. Those critically ill patients will be swiftly treated in so-called negative-pressure rooms at hospitals from Monday.
As a precautionary measure to contain further spread of the virus, the education ministry ordered all preschools, primary and secondary schools nationwide to postpone the new school term by two more weeks to March 23. "We need more time to ensure a safe environment for students," said Education Minister Yoo Eun-hae in a news conference.