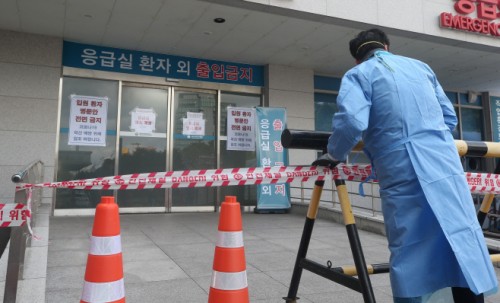 The emergency room of Ulsan University Hospital has been shut down on Feb. 27, 2020, after a doctor in the emergency room has been confirmed to be infected./ Source: Yonhap News
By AsiaToday reporter Joo Sung-sik
South Korea's Covid-19 cases crossed 1,700 on Thursday, with a majority of confirmed cases linked to specific groups, facilities, and medical institutions in not only the hardest-hit city of Daegu and neighboring North Gyeongsang Province but also the capital Seoul and Busan.
South Korea confirmed 505 new cases of the Covid-19, bringing the total number of infections nationwide to 1,766 as of February 27 at 4 p.m., the Korea Centers for Disease Control and Prevention (KCDC) said in a statement. Out of the new cases, 422 were reported in the southeastern city of Daegu and 26 in North Gyeongsang Province. Seven other cases were reported in Seoul, eleven in Gyeonggi Province, four in Daejeon, twelve in Chungcheong Provinces, seven in Ulsan, nine in South Gyeongsang Province, and two in North Jeolla Province.
In Seoul, the city's biggest hotbed of infections was found to be Eunpyeong St. Mary's Hospital, where 11 cases were confirmed. Other patients and staff members who came into contact with them are quarantined. In Busan, 29 cases linked to Oncheon Church were confirmed.
An additional death related to Covid-19 was reported, bringing the total number of fatalities to 13. The KCDC said the 13th victim was a 74-year-old man who was a member of the Shincheonji Church. "The victim was subject to the Shincheonji Church investigation. Since he had received a kidney transplant operation before, our public clinic has been keeping an eye on him. We believe he died while waiting to be hospitalized after showing fever and respiratory symptoms," said KCDC director Jung Eun-kyeong.
The government has decided to secure more than 800 beds by the end of this month in North Gyeongsang region, where the number of confirmed cases is increasing rapidly. In response to the rapid spread of the virus in North Gyeongsang reigon, the Central Disaster Management Headquarters secured 26 negative pressure sickbeds in the region and designated three medical centers – Andong Medical Center, Pohang Medical Center, and Gimcheon Medical Center - as dedicated hospitals for Covid-19 treatment. It plans to secure a total of 811 beds by the month.
The government has announced a set of measures to support medical personnel dispatched to the worst-hit city of Daegu. Under the plan, doctors and nurses of public institutions and military who are sent to special disaster zones will be given extra payment of 120,000 won and 70,000 won, respectively. Private doctors and nurses will be given up to 550,000 won and 300,000 won, respectively, on a daily basis.
Meanwhile, the nation has released two more fully recovered patients on Thursday, bringing the total number of discharged patients to 26.