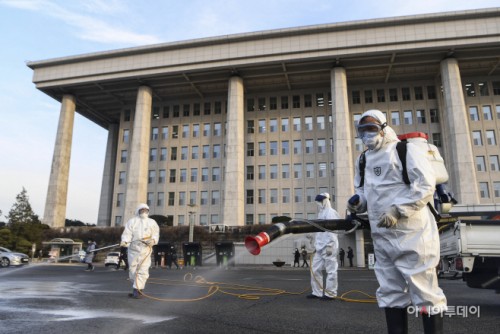 Health workers spray disinfectant as a precaution against the coronavirus at the National Assembly in Seoul on Feb. 24, 2020, after it was discovered that a confirmed patient attended an event at the National Assembly last week. Parliament said that disinfection will be carried out by stages till Feb. 26./ Source: Lee Byung-hwa (photolbh@)
By AsiaToday reporter Lim Yoo-jin
"What's the use of revising the three Covid-19-related bills after all the people have died? It symbolizes the country's National Assembly, which thinks nothing of the lives and safety of the people."
It remains uncertain when the set of three bills aimed at beefing up the quarantine response to contagious diseases, such as Covid-19, would be passed. With sharp worsening outbreak in the country, a parliamentary health committee belatedly passed the bills last Thursday.
While the medical community, experts and the public have been constantly calling for revision of bills to better respond to infectious diseases, the National Assembly have remained silent. Moreover, the National Assembly temporarily shut down its buildings after learning Monday that a confirmed patient attended a parliamentary forum last Wednesday, failing to deal with the bills for a while.
AsiaToday has been criticizing the slow response of the government and political parties through several reports while calling for preemptive measures to raise the country's virus alert level to highest, to revise three quarantine-related bills as early as possible, and to bar entry from China.
However, the government and lawmakers have been paying their attention to the upcoming general elections while making passive response towards the deadly Covid-19 outbreak, threatening the lives and safety of the people.
The ruling and opposition parties eventually decided to hold a plenary session on Thursday to deal with the Covid-19 bills. However, the shutdown of the National Assembly has postponed the plenary session indefinitely. An official of the National Assembly's Judicial Committee told AsiaToday that it is reviewing postponement of the plenary session which was set to take place on Wednesday.
The political community seemed in a flurry when the country on Monday confirmed seven deaths and over 800 cases of the new coronavirus, sparking harsh public criticism. "The public is very skeptical about the existence of the National Assembly, which postponed a plenary session after coming into contact with a confirmed patient," said commentator Choi Young-il.
"The National Assembly pretends to work ahead of the general elections. The problem is that the bill handling process is being delayed," Choi said. "The public is experiencing the annoying parliament after undergoing the worst 20th National Assembly."