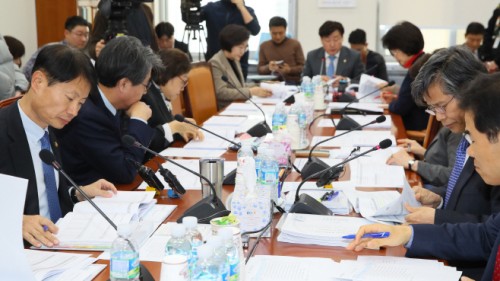 The Bill Review Subcommittee under the National Assembly's Health and Welfare Committee is reviewing a set of revised bills aimed at beefing up the quarantine response to the virus, on Monday./ Source: Yonhap News
By AsiaToday reporters Kim Yeon-ji & Lee Jang-won
South Korea has reported its first death from the new coronavirus, officially dubbed COVID-19. As a matter of fact, the government's quarantine net has collapsed. Political circles have belatedly decided to come up with measures; however they seem more concerned with the April 15 general elections while ignoring people's lives, stirring national anger. The situation has deteriorated enough to kill a man with the infectious disease, however turf wars between rival parties ahead of the general election is causing the public anger.
After the country confirmed the first COVID-19 death, the ruling and opposition parties held a general meeting of the health and welfare committee on Thursday and passed a set of three bills aimed at beefing up the quarantine response to the virus. The three measures approved are proposals to revise the quarantine act, the infectious disease control and prevention act and the medical service act. They are expected to be put forward for review by the legislation committee next Wednesday and to be presented at a parliamentary plenary session next Thursday.
Their foot-dragging approach is likely to face public criticism. The country reported a surge of 53 newly confirmed COVID-19 cases on Thursday, bringing the national total to 104. At this rate, there are concerns that the illness could spread rapidly across the country. Public criticism is mounting over whether the country should wait for the parliamentary plenary session until next Thursday for approval of the bills. The government is also facing criticism over its complacent measures of not raising the status of the virus outbreak from 'cautious' to 'serious.'
Ruling and opposition parties came up with countermeasures aimed at strengthening prevention of epidemics and drawing up an extra budget to contain the rapid spread of the virus, as if they felt threatened. On the surface, they cry for bipartisan efforts. However, many criticize for their passive response. The ruling and opposition parties decided to launch a special committee on the coronavirus on February 5, but they are sparring over details including its name and chairmanship.
"Many are frustrated over political powers who are trying to use the national disaster politically," said commentator Choi Young-il. "The national assembly keeps talking about COVID-19, but it's such a sad situation because they are all talk. The ruling party and the government could have prevented the spread of the virus, but they have gone beyond the point where you could stop it. In this situation, it's not appropriate for the opposition parties to focus on criticizing the government and creating an air of anxiety."
There are growing calls for the government's immediate action in regions where there is a risk of virus spreading. The Korean Federation of Teachers' Associations urged the government to officially recognize infectious disease as a reason to reduce the number of school days. The organization urged the Education Ministry to draft uniform guidelines so the first day of school can be postponed.