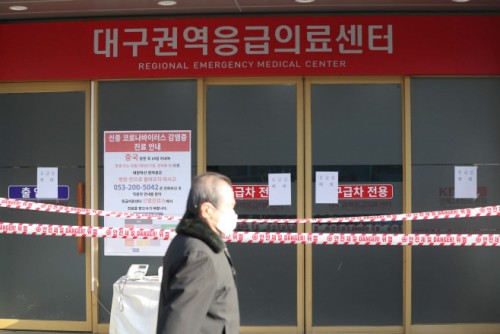 Kyungpook National University Hospital's emergency medical center in Daegu's Jung-gu District was shut down Wednesday, Feb. 19, after multiple new cases of the novel coronavirus were confirmed in the city./ Source: Yonhap News
By AsiaToday reporter Joo Sung-sik
Multiple new cases of the novel coronavirus has been reported Wednesday from Daegu and the surrounding North Gyeongsang Province, collectively known as TK region, amid fears that the respiratory illness is spreading across the country. Aside from the patients in TK region, South Korea has confirmed that a 77-year-old man living in Seoul's Seongdong-gu District has been diagnosed with the disease, and an 11-year-old daughter of the 20th patient also tested positive for the illness.
The Korea Centers for Disease Control and Prevention (KCDC) said Wednesday it has confirmed 20 more cases of COVID-19, bringing the total number of infections to 51.
As 18 of the new patients live in Daegu and in the adjacent North Gyeongsang region, the KCDC believes they are suspected cases of community spread. Among them, fifteen attended the same religious services as the 31st patient, while one had contact with the patient at a local hospital. Health authorities are trying to figure out how the other two patients could have been infected.
Meanwhile, two of the 21 confirmed cases were in Seoul and Gyeonggi-do Province. The 40th patient is a 79-year-old South Korean man who tested positive at Hanyang University Hospital in Seoul's Seongdong-gu District. He reportedly has no recent record of traveling overseas and no contact with any of the other confirmed patients. He's quarantined and is receiving treatment at the National Medical Center.
The other case is an 11-year-old girl, the youngest patient to be infected in Korea so far, and is the daughter of the country's 20th patient. She's now in isolation and receiving treatment at Seoul National University Bundang Hospital.
Prior to this, a South Korean presidential jet on Wednesday morning brought back 7 passengers and crew members from the virus-hit Diamond Princess cruise ship that has been docked at Japan's Yokohama port for weeks. The evacuees – six South Koreans and a Japanese national – landed at Seoul's Gimpo International Airport at 6:27 a.m., and are now in isolation at a government quarantine facility at Incheon International Airport.
None of them are showing any symptoms of the virus, according to health authorities. They will be under quarantine for two weeks.
Meanwhile, the country has released four more patients from quarantine after they made full recoveries. This brings the total number of fully recovered patients in the country to 16.