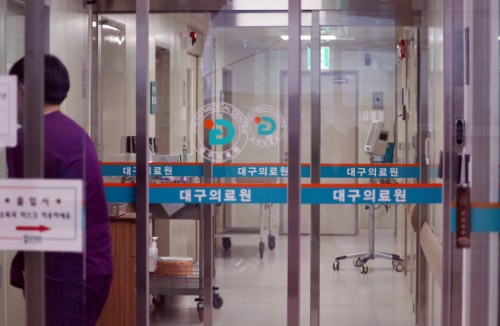 Daegu Medical Center, where the country's 31st patient is quarantined./ Source: Yonhap News
By AsiaToday reporter Joo Sung-sik
South Korea reported one more case of the COVID-19 virus with no record of overseas travel, raising concerns about the possibility of community spread. Besides, epidemiological investigations to track the source of infection and the path of infections of the country's 29th and 30th patients are proceeding slowly, fueling concerns over community spreading risks.
The Korea Centers for Disease Control and Prevention (KCDC) said on Tuesday that the country's 31st patient is a 61-year-old South Korean woman living in the city of Daegu, 300 kilometers southeast of Seoul.
Prior to testing positive for the virus, the latest patient was hospitalized at a medical facility in Daegu on February 7 to treat injuries from a car accident on the previous day. She started to complain of fever on Feb. 10 and was tested Monday at a local community health center. She was immediately quarantined at Daegu Medical Center after testing positive.
According to the KCDC, the patient has no record of traveling abroad in the past month or coming into contact with any confirmed patients. The KCDC believes the latest patient is a suspected case of community transmission like the country's 29th and 30th cases. It is conducting an epidemiological survey in cooperation with local health authorities in Daegu to track the patient's steps to isolate people she has come into contact with and find out how she contracted the illness.
The health authorities are also investigating infection routes of the country's 29th and 30th patients who have no record of traveling abroad. They found out that the 29th patient visited a senior welfare center and a go club in Jongno District before showing symptoms, and that the 30th patient contacted 30 people. However, they seemingly need more time to figure out how they contracted the virus.
"Since both patients have been exposed to the community for a long time, we are still investigating this," KCDC director Jung Eun-kyeong said in a press conference. "It's taking time to investigate since both patients are elderly and it's been a long time since they have developed illness," she added.
In the meantime, the country's 12th and 14th patients had been discharged Tuesday after they tested negative for COVID-19 twice in the last 24 hours. So far, 12 COVID-19 patients have fully recovered from the disease in the country.