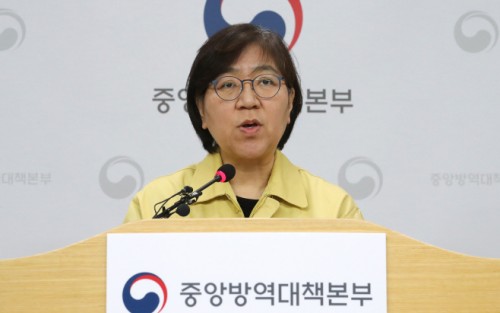 Director of Korea Centers for Disease Control and Prevention Jung Eun-kyeong speaks during a briefing Monday./ Source: Yonhap News
By AsiaToday reporter Joo Sung-sik
The government has decided to add the novel coronavirus to the existing respiratory infectious disease monitoring system and manage it like seasonal flu, in order to ease rising concerns over community transmission of the virus.
However, there is growing concern that the government's quarantine network has been breached as the country's five COVID-19 patients, including the 29th and 30th patients that were confirmed last weekend, are found to be residents of Seoul central Jongno-gu District, where headquarters of large companies and shopping centers are concentrated.
The Korea Centers for Disease Control and Prevention (KCDC) held a regular briefing at the KCDC headquarters in Cheongju on Monday, and said it will include COVID-19 to the Severe Acute Respiratory Infection (SARI) Surveillance.
As a result, the COVID-19 test will be added Tuesday to the SARI Surveillance, which is implemented in 13 tertiary hospitals across the country, and the number of medical institutions joining the monitoring system will be expanded in order to identify patients and disease-causing agent as early as possible.
The country's health authorities also decided to add COVID-19 in the testing category of Korea Influenza and Respiratory Viruses Surveillance System (KINRESS), which is being implemented on eight types of viruses, and to expand the number of participating medical institutions to 200.
The move is seen as a preemptive response to rising concerns over community spread after the country reported the 29th and 30th patients over the weekend. As the latest patients had not been in contact with the confirmed patients and had not traveled overseas, the government seems concerned that the cases might mark the first ones out of the surveillance system of the quarantine authorities.
Besides, it was reported that three confirmed patients apart from the latest 29th and 30th patients came out of Jongno-gu District, putting the local government on high alert while causing anxiety among the residents. According to the KCDC, the two latest patients have been quarantined at Seoul National University Hospital after testing positive for the virus.
"Until the confirmation of the 28th case, our containment efforts was centered on preventing the virus from entering the country," KCDC director Jung Eun-kyeong said. "With the 29th and 30th patients with an unknown transmission route and with no overseas trip records, early diagnosis of the infections has become important to sustain community transmission."