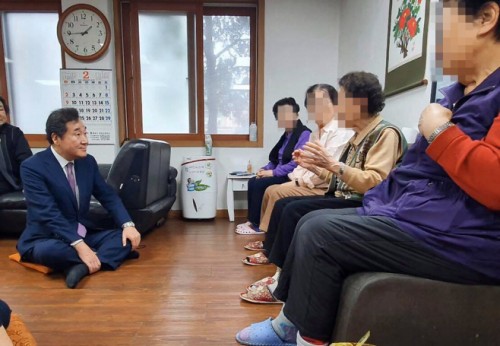 Former Prime Minister Lee Nak-yon of the ruling Democratic Party holds a meeting with members of a senior citizen community in Seoul's Jongno District on Feb. 12, 2020./ Source: Yonhap=A captured image from Lee Nak-yon's social media account
By AsiaToday reporters Lim Yoo-jin & Woo Sung-min
The role of senior voters seems crucial in the battle of Jongno, where two political heavyweights declared their candidacy for the upcoming April 15 general election. As a result, attention is drawn to the policy and pledges of Lee Nak-yon of the ruling Democratic Party (DP) and Hwang Kyo-ahn of the main opposition Liberty Korea Party (LKP) to win voters over age 50. The two candidates are expected to pay attention to the issues that matter to voters over age 50, such as economy, diplomatic security and life after retirement.
According to AsiaToday's Wednesday analysis of voters in Seoul's central Jongno district, there are 134,460 active voters as of December, with male and female voters accounting for 48.5 percent and 51.5 percent, respectively. Among them, voters in their 50s and older make up a majority, accounting for 48.5 percent. It suggests that if candidates want to win in Jongno, they better capture voters 50-plus.
There are 26,114 voters in their 50s in the district, accounting for 19.42 percent of active voters, and 39,107 voters in their 60s and older, accounting for 29.08 percent. There will be 1,337 new voters who will turn 18 and be eligible to vote in the upcoming April election.
There are 27,101 voters under age 30, accounting for 20.16 percent. Those in their 30s and 40s account for 13.88 percent and 17.46 percent, respectively. The number of voters over 50 is 65,221, which is almost equivalent to 69,239 voters under 50.
In past elections, voters in their 20s to 40s tended to be progressive, and those over 60 were conservative. Among those in their 50s and older, policy proposal and pledges of a candidate is a major factor in deciding whom to vote for in the elections. As most of them prepare for their old age while looking after their children and parents, policies and issues about welfare, economy, and security are their major concern.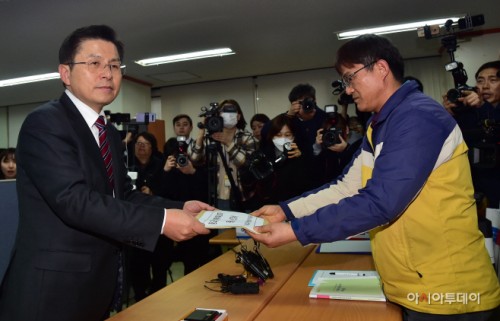 Main opposition Liberty Korea Party leader Hwang Kyo-ahn presents an application to register his provisional candidacy for the April general elections at an election management commission in the Jongno constituency in Seoul on Feb. 12, 2020./ Photographed by Lee Byung-hwa
Typically, conservative camps are strong on economic and security issues. Internally, experts say that election will play a role as a judgment on the Moon Jae-in administration amid rising polarization and income inequality. Externally, experts say conservative camps or opposition parties will take advantage of the administration's little outcome related to its North Korea policy. On the other hand, t welfare policies related to medical care, housing, retirement are expected to work in favor of the Moon administration and the ruling party as they have introduced many corresponding policies.
The Jongno district has been a traditionally conservative stronghold. In the eight general elections held since 1987, conservative candidates were elected for the district, except for the 16th, 19th and 20th elections when Roh Moo-hyun and Chung Se-kyun won the position. In general, voters supported conservative candidates, but they made a strategic choice of voting for a progressive one if a progressive camp put up a centrist candidate.
"Jongno will be a key battlefield in the upcoming elections as the winner could go on to win the next presidential elections and become the country's next leader," said commentator Choi Young-il.