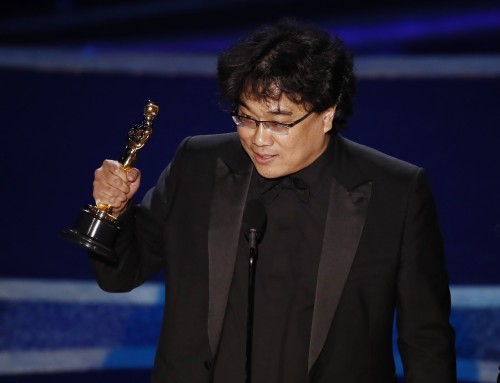 Director Bong Joon-ho poses with his best director award at the 92nd Academy Awards in Los Angeles on Sunday./ Source: EPA Yonhap
By AsiaToday reporter Lee Da-hye
Bong Joon-ho's black comedy "Parasite" has shocked the world by breaking the language barrier in the Hollywood and the Academy's stigma against foreign-language films. It is the first non-English language film to win the top prize in the Oscars' 92-year history, marking a milestone in the 101-year history of Korean cinema and in Korean cultural history.
At the 92nd Academy Awards held at the Dolby Theatre in Los Angeles on Sunday, Bong's seventh feature film won four Oscar titles: best picture, best director, best original screenplay and best international feature film. Since Shin Sang-ok's "Mother and a Guest" in 1961, South Korean films have been knocking on the Academy's door. "Parasite" is the first South Korean movie to be nominated and win a prize.
"Parasite" is the first non-English title to win the Oscar's best picture in more than 90-year-history of the event, enhancing Asian films' position. Bong is the second filmmaker of Asian descent to win the directing award, following Ang Lee who won in 2006 for "Brokeback Mountain" and 2013 for "Life of Pi."
Bong and co-writer Han Jin-won became the first Asian writers to take the screenplay prize. Bong is also the first filmmaker to win the top honor at Cannes and at the Oscars for the same film since 1955, when American romantic comedy "Marty" by Delbert Mann attained the double.
Bong enjoyed the spotlight at the 2020 Oscars. His film beat out Martin Scorsese's "The Irishman," Todd Phillips' "Joker", Sam Mendes' "1917," and Quentin Tarantino's "Once Upon a Time in Hollywood." During his speech, Bong paid touching tribute to each of his fellow nominees, saying, "If the Academy allows, I would like to get a Texas chainsaw and split the Oscar trophy into five and share it with all of you."
Meanwhile, another South Korean film "In the Absence" – a 29-minute documentary by director Yi Seung-jun about the 2014 Sewol ferry disaster in South Korea – failed to receive an award after being nominated for Best Documentary Short Subject for the first Korean film.